You might be already digging helpful articles that advice how to write your statement of purpose but the requirements for SOPs in various industries demand at times different approaches in writing. We suggest you to get familiarized with universal standards that are generally unified for all personal statements, from always welcomed "Do's" to the most undesirable "Dont's". Here you can find a showcase specifically from Sop expert, of how these advice can really be applicable in practice and get the opportunity to check them on actual example. With all these by your side you'll surely write a statement of purpose that gets a great success. Get lucky!
Do:

Greater start.
Begin your essay with an attention-grabbing feature – a joke, quote or question, engaging description or short story.

Vivid examples.
Use concrete examples derived from your personal experience, supporting the story and distinguishing you from others.

Impressive Background
. Don't talk much about your high school, point out your undergraduate career and mention all the essential skills that might seem helpful for the future development.

Writing style.
Write in a simple style. Do not adopt a flowery and complicated tone.

Excitement tone.
Write about what interests you, excites you. The overall tone should always be positive and passionate, your feelings here are really noticeable.

Be clear.
Make sure you are logical. Explain yourself with great clarity. Don't say – 'My grades were quite good' but say 'I belonged to the top 5% of my class'. Don't say – 'I am interested in sports'. Say 'I was captain of my hockey team'. Don't say 'I like poetry'. Say 'I did a study of Shakespeare's sonnets and wrote a twelve-page bachelor's degree dissertation on Imagery'. Don't say – 'I want to be a Supreme Court Judge, that is why I want to go to law school'.

Create a purpose.
Explain why you think that lab or graduate program is a great place and would be a good fit for what you are looking for. Explain why you're the best one for the mission you hold in mind.

Future plans.
Explain what your ultimate career goal is resource manager, faculty position at a major research university, etc.). Always include this point into your story.

Conclusion.
End your essay with a conclusion that refers back to the lead and restates your thesis.

Proofread thoroughly.
Make sure there's no room you left for a mistake or typo.
Don't:

Don't
include information that doesn't support your thesis. Any irrelevant information is a great minus.

Don't
start your essay with "I was born in…," or "My parents came from…"

Don't
write an autobiography, itinerary, or resume in prose. Don't just rewrite your CV information, put there something different.

Don't
try to be a clown (but gentle humor is OK). SOP is a kind of document that doesn't need exagerrations.

Don't
be afraid to start over if the essay just isn't working or doesn't answer the essay question.

Don't
try to impress your reader with your vocabulary. Better choose the simple and laconic narration style.

Don't
write a novel, for acceptance in 1-2 pages are MUCH more successful than ones that ramble for 5 pages.

Don't
provide a collection of generic statements and platitudes. Plagiarism and all related issues are highly unwelcomed.

Don't
give mealy-mouthed, weak excuses for your GPA or test scores.

Don't
make things up. Even such insignificant things as your school grades can be uncovered in case your application will be selected for the consideration.
Check the real sample from the expert and find out the cases where some of the mentioned above rules applied: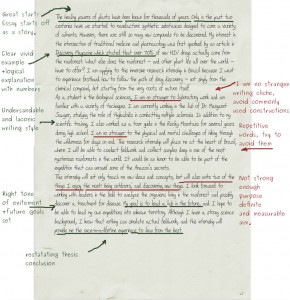 As a conclusion it is important to note, the most important thing of your SOP preparation is focusing on the positive side of writing experience, even though it may sound not that inspiring for you at first. Get your admission committee see and feel what makes you tick and drives you for action, let them understand it's your constant passion you'll always be into no matter what. If they sense this strive in your application the odds are high that you get this graduate degree. And remember, don't worry too much about writing something wrong, because it's much better to make several mistakes than to write a flat, boring statement of purpose.
If you're wondering how to write a sop for internship brilliant enough to outshine your competitors ask us! We know it all!