An academic cover letter sample is useful in case you have to prepare a cover letter and running out of time. If you a handy sample ready, it can be easily customized as per your requirement.
Academic Cover Letter Sample to Make Your Own Cover Letter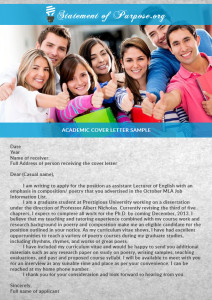 A sample can be easily converted into a wonderful academic cover letter. You just need to refer one good sample academic cover letter and your burden will be lightened. Sample cover letters are created in easy language with fill-able fields like names and designation of sender and receiver. A description of the academic qualification and important points. The language is very easier to understand and doesn't need much alteration. A sample academic cover letter saves a lot of time in cases of urgency when there is no time to sit back and create a completely unique academic cover letter or academic recommendation letter. Our professional writers would be delighted to create a custom written letter for you, that will impress admissions committee if you need a SoP for internship as well.
Academic Cover Letter Sample for Your Reference
We are offering a free academic cover letter sample below for your guidance:
Date
Year
Name of receiver:
Full Address of person receiving the cover letter
Dear (Casual name),
I am writing to apply for the position as assistant Lecturer of English with an emphasis in composition/ poetry that you advertised in the October MLA Job Information List.
I am a graduate student at Prestigious University working on a dissertation under the direction of Professor Albert Nicholas. Currently revising the third of five chapters, I expect to complete all work for the Ph.D. by coming December, 2013. I believe that my teaching and tutoring experience combined with my course work and research background in poetry and composition make me an eligible candidate for the position outlined in your notice. As my curriculum vitae shows, I have had excellent opportunities to teach a variety of poetry courses during my graduate studies, including rhythms, rhymes, and works of great poets.
I have included my curriculum vitae and would be happy to send you additional materials such as any research paper on study on poetry, writing samples, teaching evaluations, and past and proposed course syllabi. I will be available to meet with you for an interview at any suitable time and place as per your convenience. I can be reached at my home phone number.
I thank you for your consideration and look forward to hearing from you.
Sincerely,
Full name of applicant
For more academic cover letter examples, please visit our website.
Use academic cover letter sample to write your own correctly!