How to apply to an international university? No matter what country you've picked – Canada, Australia or New Zeland – the first thing you need to do in this case is to learn how to write personal statement visa, but is it all so easy? Probably not – different countries have different student visa regulations and requirements. Let's take a look at how to write the personal statement visa for the specific country and let's find out the striking differences and intersecting similarities that are used for study abroad experience essay. Just as for statement of purpose graduate school requirement you need to include a specific information that will help you to uncover your aims and purposes.

Essential Steps before Writing Statement of Purpose 2019
1. Your statement of purpose for visa officer is not an average statement of purpose for the university, you will have to look for specific information considering the state department's international travel country-specific information.
Here you will be able to find such things like:
2. Visit the Border Agency of the destination country. Find the visa application, look for the "Students" or "Studying" section, FAQ section and the one explaining both the parts of the visa application and the terms.
3. Prepare visa application materials.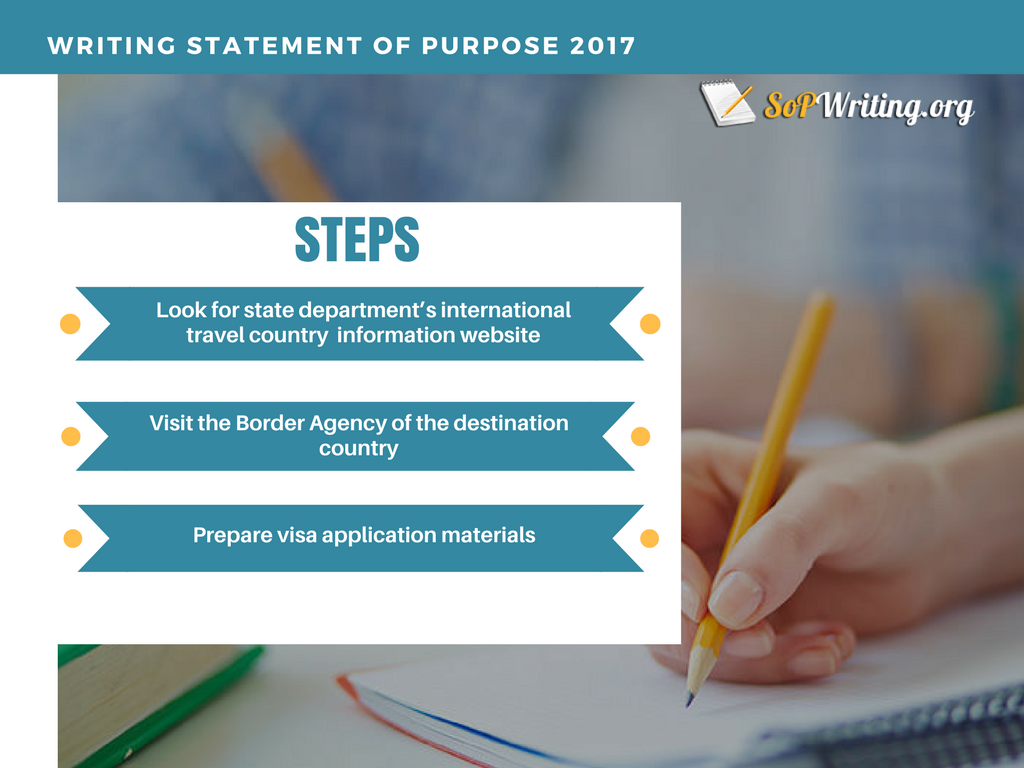 8 Visa Application Materials for Canada, Australia, and New Zealand
A sponsoring letter from your abroad college, university. Should include: tuition and room board cost, your future place of stay.
A covering letter and the statement of purpose. How to write them see below.
IELTS / TOEFL / PTE score. Required in order to make sure you know English on the level enough for studying. Some countries require the certificate and other not.
Your solvency. A documentation proving that you have a bank account with a certain sum of money, defined by the visa regulations and that sum of money is independent, it can't be a tuition or board cost sum.
Sources to pay your tuition. You need to provide the documentation that proves that you're able to pay your tuition.
Personal biometrics. In other words, your fingerprints, once you complete the application procedure to foreign university you're assigned to the biometrics.
Passport. Your passport should be already obtained. The copies you will be sent with the rest of the documents, the passport gets back with the visa in it.
Passport quality photos. The visa website f the destination country specifies the format of the photo that you need to send along with the documents.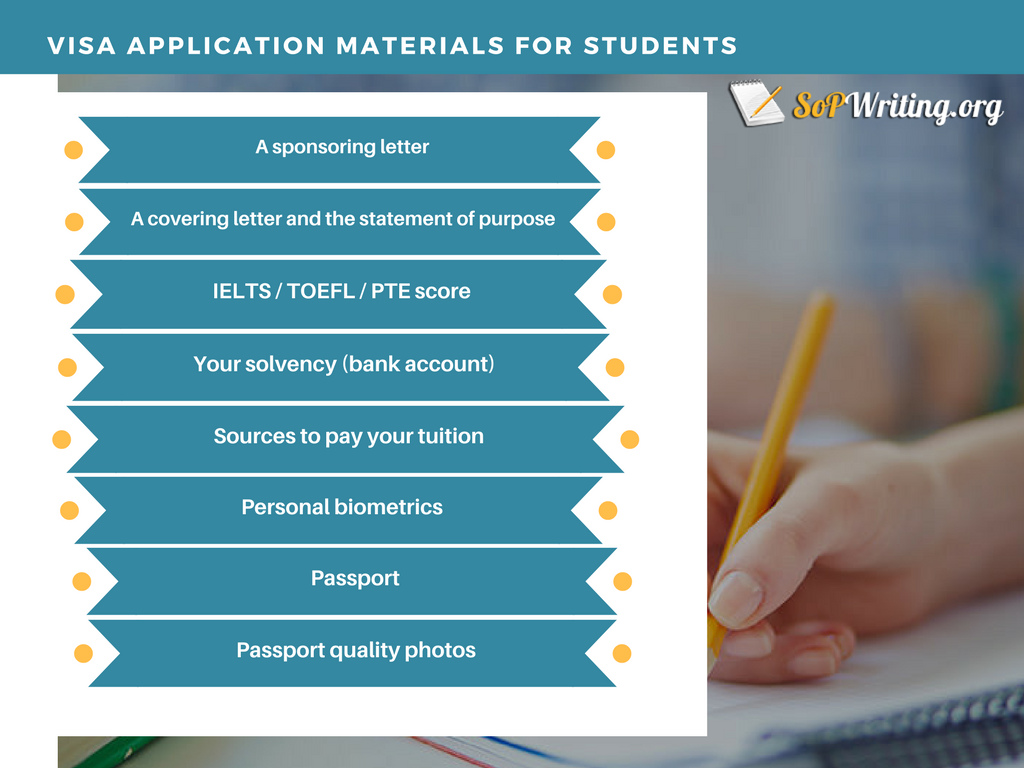 The application that you send should be ready for at least 2 months in advance to be ready for the unpredictable things like your visa delay. If you are in the hurry it's even easier – all you need to do is to choose good sop writing services.
Statement of Purpose for Canadian Student Visa: Specifics
Eight Canadian universities have been ranked among the top 200 universities around the world, with the University of Toronto, University of British Columbia, and McGill University in the top 50 in this popular university ranking system. The eight universities to make it onto this prestigious list are; the University of Toronto, University of British Columbia, McGill University, University of Montreal, University of Alberta, McMaster University, University of Waterloo and University of Calgary.
For keeping in touch with the most accurate and updated regulation considering student visa document list and document formatting in Australia you need to visit the site containing the full list of documents. How important is the SOP for getting admitted to a Canadian university in a graduate program? The answer is really important, sop makes the overall, personal impression of you that other document can't make.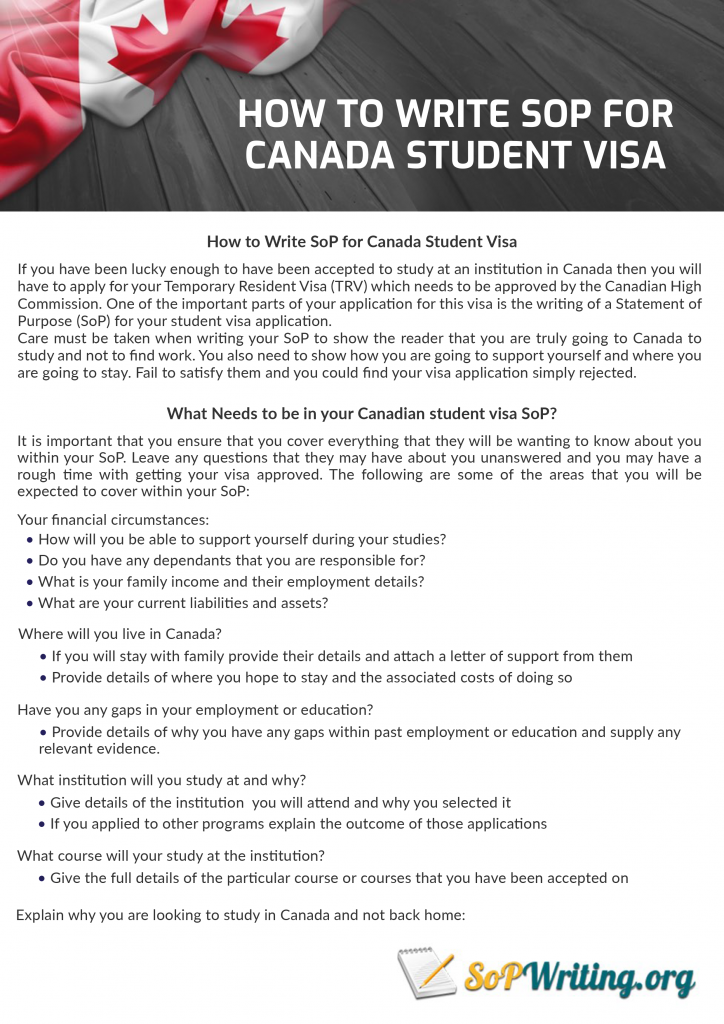 Personal Statement for Canada Student Visa Checklist
When writing the entering statement of purpose for Canadian embassy you need to keep in mind the following 10 questions that you need to uncover:
Why you've chosen a program in Canada.
What are the educational goals that you pursue?
Why homeland education is not good for you.
How your country will contribute to the education you get in the future.
Do you plan to get back to your country?
If you've been out of school for more than 2 years, provide your resume.
If you're a minor, why did you choose Canada for studying?
Add the relevant to the course job experiences if you have any gaps in education.
What factor is the most important in your course pick?
Mention the professors that you know and mention their works.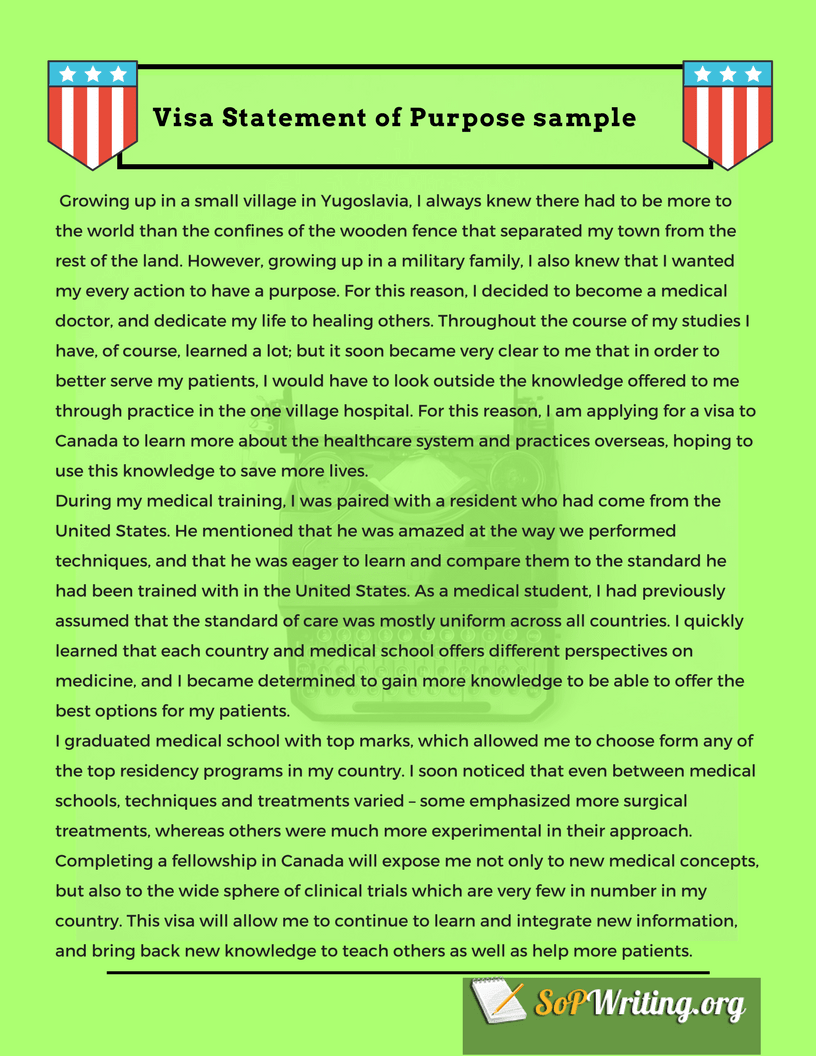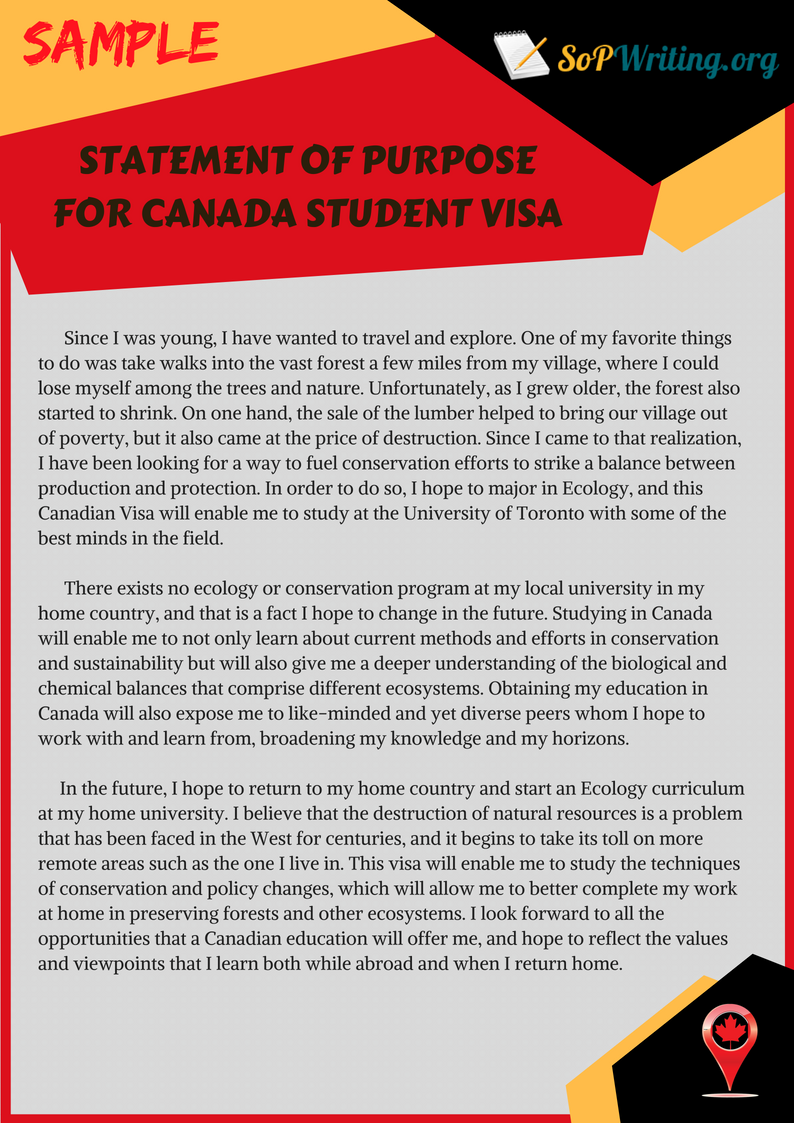 A student visa is termed as a 'study permit' in Canada. Applicants are advised to visit the Canadian Immigration website in order to find the full list of documents. The statement of purpose should not exceed 500-600 words maximum, it should be 3 pages long. The paragraphs need to look neat and formatted 50-70 words approximately each. If you're intended to write a generic or unauthentic statement of purpose it can turn fatal for your application and even worse can be if it will be revealed at the pre-selection interview, the experts say. 100% originality is a must, preferably the statement of purpose needs to be structured, include headings and subheadings.
Statement of Purpose for Student Visa New Zealand
University education was established in New Zealand in 1870 and has a similar tradition to the British university system. At most New Zealand universities the course of study for a Bachelor's degree consists of a prescribed number of units, papers or courses. In each subject, there are usually first-year (stage I or 100 level), second-year (stage 2 or 200 level) and third-year (stage 3 or 300 level) courses. Top universities: University of Auckland, University of Otago, University of Canterbury.
You can only get a student visa to study in a course at an educational institution, which is registered and approved by the New Zealand Qualifications Authority. Many students ask: What is the student visa deadline for New Zealand? The answer is simple – once you are enrolled officially in the course you can start applying for a visa, many experts suggest doing it as soon as possible.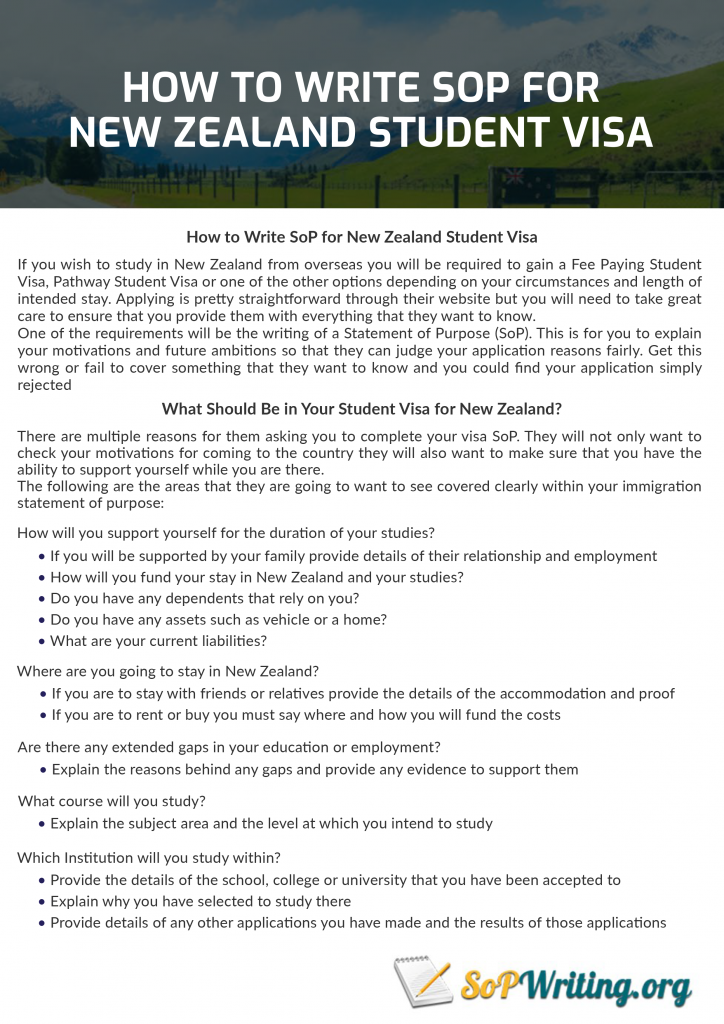 Personal Statement for New Zealand Student Visa Checklist
When writing the statement for New Zeland colleges or universities you need to keep in mind the following 7 details:
How relevant is the course of your long-term goals?
Write down all your past accomplishments – academic, extracurricular, social contributions, sports, volunteering
What do you want from life? What is the career you want to choose for yourself in the future and why?
Write down the area that you want to make personal contributions to professionally. How are these goals achievable with the help of the course you've picked?
What makes you a special candidate?
Which personal qualities will help you to get what you desire?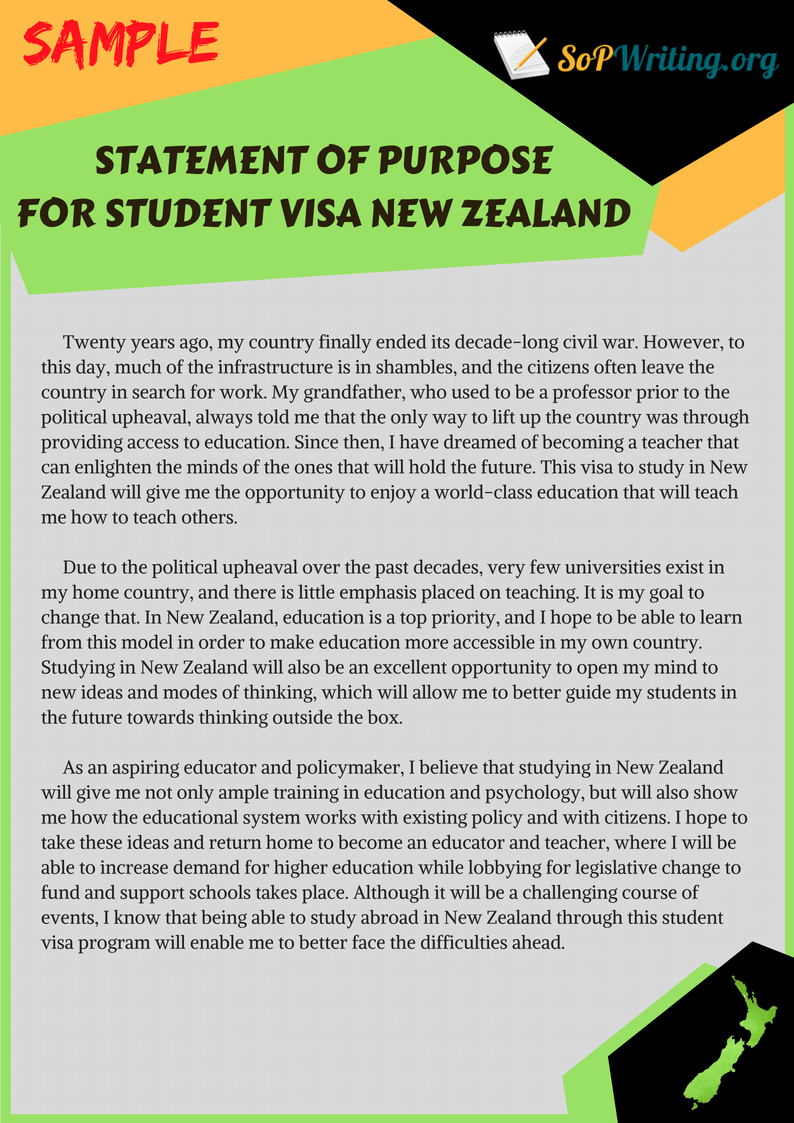 The formatting tips: The statement of purpose is written I the form of the essay that should take 2-3 pages and approximately 700-800 words. Each paragraph is taking 50-80 words. Personal statement doesn't have to be formatted in the certain style of way, it may have or don't have the heading or subheadings. The visa documents requirements get updated from year to year so you should keep an eye on them with the help of sites that include the full list of documents.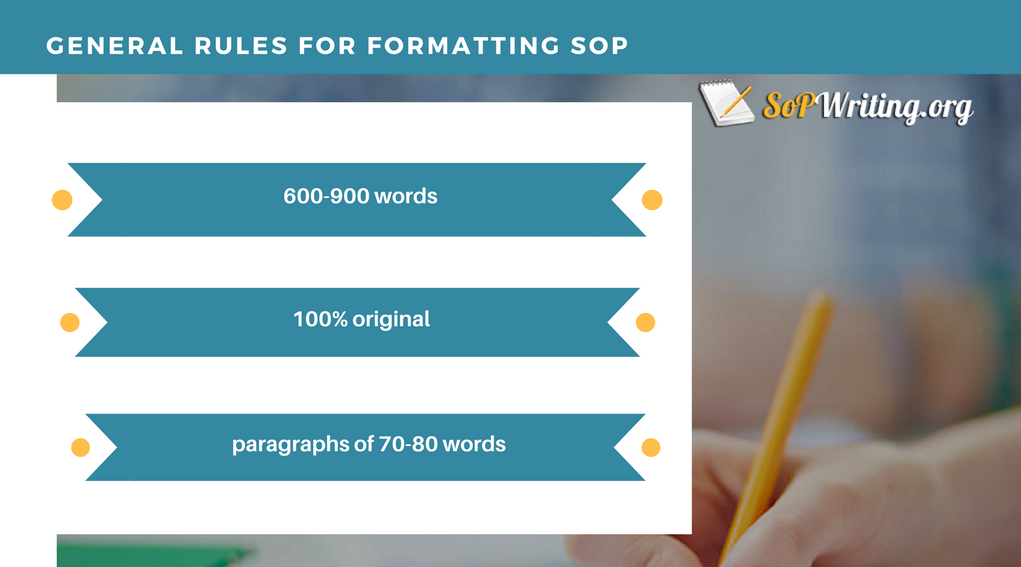 Statement of Purpose Australia Student Visa Needs
Australia has an integrated nationwide system of qualifications, known as the Australian Qualification Framework (AQF), which is approved by the government. There are 41 universities ranging in size from around 3,000 students to 50,000 students – 39 of these are government run. Australian universities offer undergraduate and postgraduate programs in traditional and modern subject areas such as innovative courses in IT electronic business and science. Top renowned and highly rated Australian universities include: University of Melbourne, University of Sydney, RMIT University, etc.
A visa decision is intimated to the applicant electronically via email, once a decision has been made by the visa authorities. The full list of documents you can find at sites featuring the full visa requirements and checklists considering documents. How can I write good SOP for Australia visa application? Here are some tips you can learn from!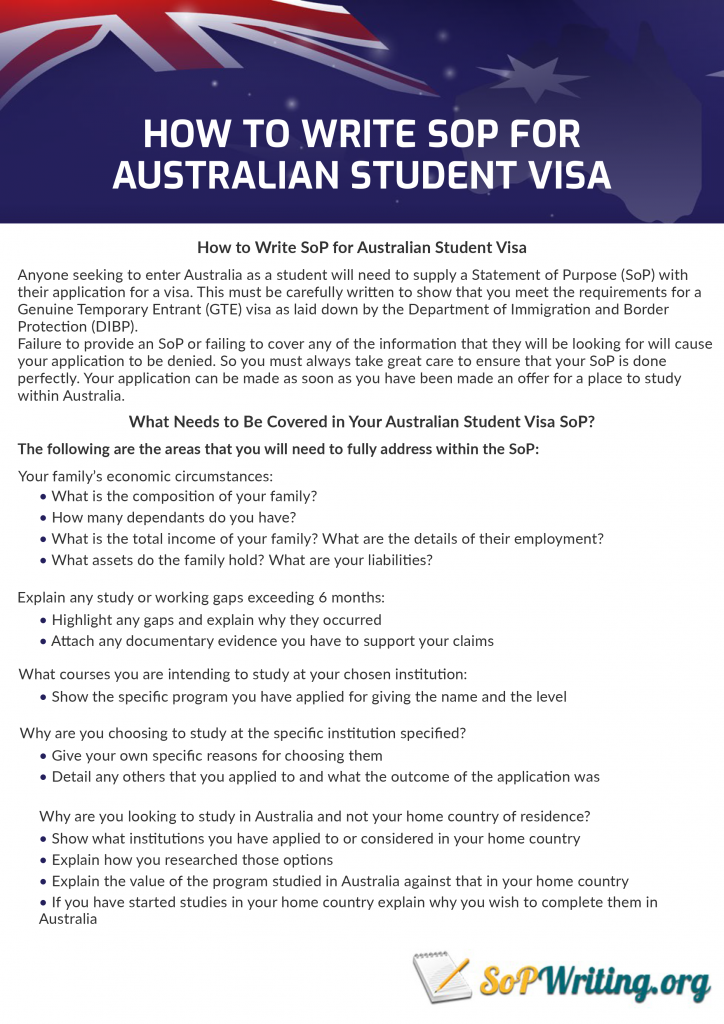 Personal Statement for Student Visa Australia Checklist
When writing the student visa statement of purpose it is recommended to keep in mind the following questions and answer them as fully as possible:
Educational background achievements.
Job experience details relevant to the course.
The reason why you choose Australian education why your hometown universities can't satisfy your needs.
The description of proposed program with the explanation of why you've chosen the institution in details.
How would you benefit your country with your qualification?
Your future plans concerning your country and work in it.
Describe your current financial situation.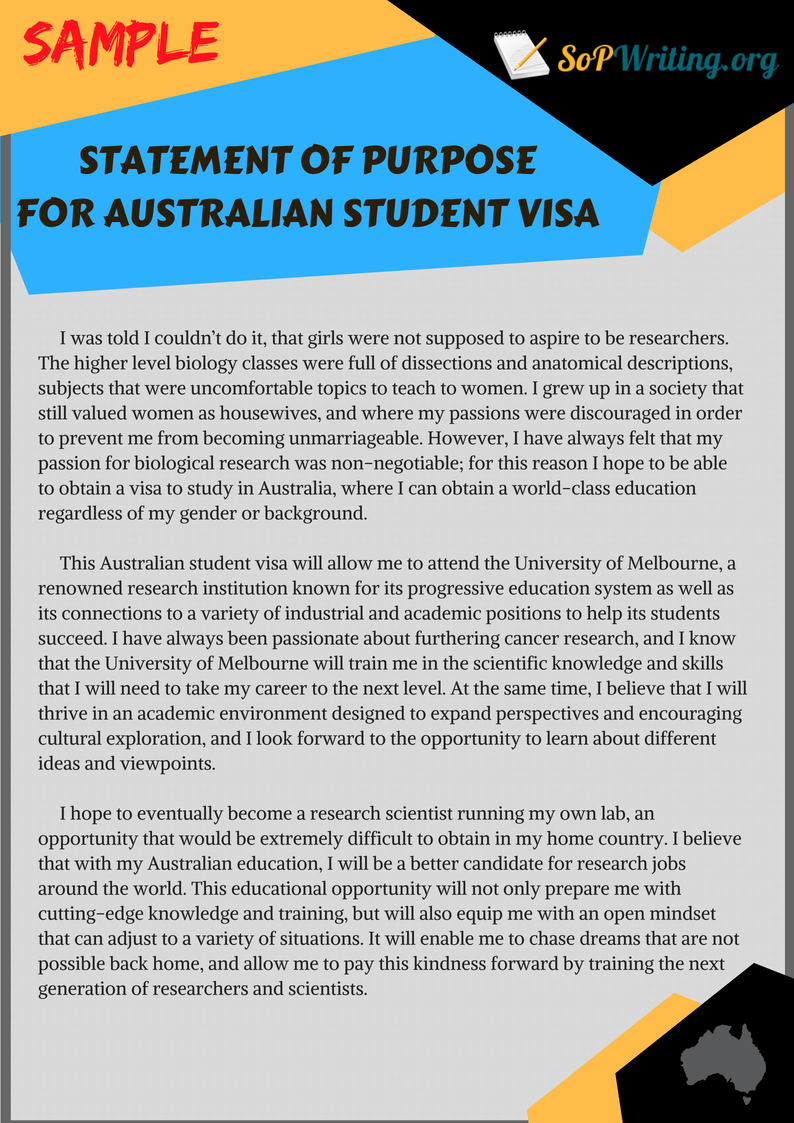 Write 800-900 words maximum, 700 words minimum (ideally 3 pages long), the paragraphs of 70 words approximately. Write with or without headings and subheadings, the font and the formatting is not regulated. Sop for Australian visa should be 100% original and feature your name and signature on it.
Many students ask themselves how to write sop for visa and how to be accepted immediately. Nothing is impossible if you know how to entwine your best personal qualities and personal achievements without looking cheesy. Don't forget to include the life turning decisions and the main motivation points and here you go! Simple, yet effective receipt of your obtaining the education of your dream is ready!
Bothered by visa statement of purpose? No chances to fail them with us! Ask now for the professional assistance!
Summary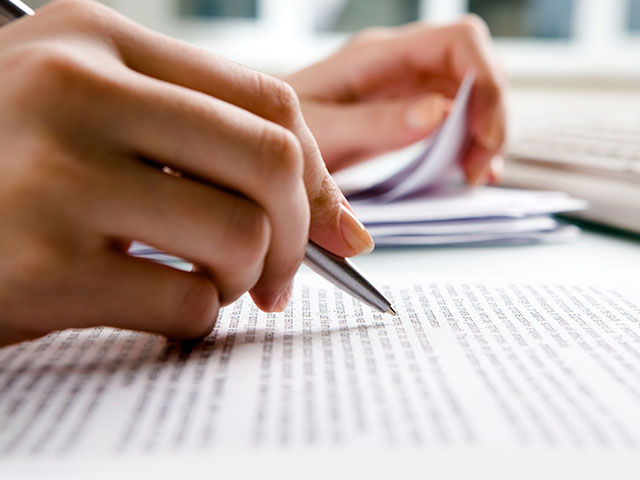 Article Name
Visa Statement of Purpose 2019 Preparation Differences: Canada, Australia and New Zealand
Description
How to write visa statement of purpose?: Canada, Australia and New Zealand learn what are the main differences in formatting and content. Find out the helping sites and the formatting tips for each via helpful infographic.
Author
Publisher Name
Publisher Logo