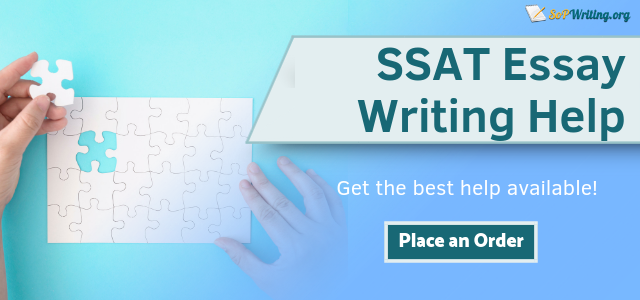 Understanding the Purpose of SSAT Prompts
Secondary School Admission Test or SSAT if is administered to students from grades three through grade 11 to provide a standardized measure that can help independent and private secondary schools make decisions for which students should be admitted. The SSAT is meant to measure students verbal, quantitative and reading skills. There are three levels based on grade and each will respond to different SSAT writing prompts as shown:
Elementary Level. Grades (3-4) Students write a creative essay responding to picture prompts.
Middle Level. Grades (5-7) Students respond to two creative prompts
Upper Level. Grades (8-11) Students respond to one essay prompt and one creative prompt
In each of the aforementioned tests, it is vital that a student has comprehensive SSAT prompts to improve their chances of getting a higher score. That being said, our service is here to provide you with vital SSAT essay tips.
Effective SSAT Essay Tips
So SSAT is a test provided in the United States by The Enrollment Management Association to students between the grades of 3 to 11 to assist professionals gauge and make decisions regarding their admission.
The following is an example of SSAT prompts:

"The early bird gets the worm." Do you agree or disagree with this statement? Use examples from history, literature or your own personal experience to support your point of view.
Here are some tips for writing essays from SSAT prompts
Prepare good answers that are flexible ahead of time. Most of the topic prompts are vague and often they have you agree or disagree with a statement. Make a list of historic events, literature and current events that you know about. Agree or disagree based on the best argument you can make with the examples you have.
Show connections. Clearly show the connection between your example and the topic that you are addressing. Use words that were used in the prompt in your essay.
Get off to a good start with your introduction. Make it interesting. Use a quote or ask a question that gets the readers interest.
Be organized. Plan on 4 or 5 paragraphs for your responses to SSAT essay prompts. Strong introduction, 2-3 paragraphs and a conclusion. Use one paragraph for each of your points.
Proofread. Go back over your essay when you are finished. Make sure your facts are correct and your presentation makes sense.
Example of a SSAT essay for the prompt above
Thesis: I agree with the statement "the early bird gets the worm."

As someone who continually tries to be first, I agree with the statement "the early bird gets the worm." Industrious people who make it a goal to be prompt are more likely to see a reward for their efforts.

Early birds get more choices. They have more options and a better chance of getting hard to find items. The best seats at a ball game or a concert tend to go to those who show up first. People that arrive early to popular restaurants are usually served immediately and may select their preferred table. Latecomers have to select from leftovers and the items others have rejected.

Early birds have less competition. Bill Gates was the first to develop an operating system and market it it to the biggest computer maker at the time. By the time others moved he had such a strong hold on the market that it was impossible to catch him. He captured almost all the market with his products and when competition showed up they had to fight for the little bits that were left over. By being the first to do what he did he made his position so strong that even companies with better products couldn't overtake him. It made him the richest man in the world which is a worm as big as an anaconda.

Finally being early means you avoid penalties for being late. Look what happens every year when you pay taxes. Taxes in the United States are supposed to be filed by April 15th. If you pay before that date then there is no problem and sometimes you might even get some money back. But if you are late then you might have to pay a big penalty that is more than the tax you owed. After you are late then they check much more to make sure you aren't cheating so unless you want the government to take all of your worms, it is better to pay your taxes early.

In our world, early birds do get the worm. I work at being prompt to have more choices, avoid competition, and escape punishment. I know, as do other early birds, that being early leads to more than worms.
SoP writing is another difficulty on your SSAT we can help you with!

How Can Our Service Help You with SSAT Writing Prompts?
We provide the following services for your convenience when you undertake your SSAT.
Writing
When it comes to your SSAT, we provide quintessential writing services to ensure that your SSAT prompts are unique and of the highest quality.
Editing
With our service, you can rest assured that your essay will be perfectly written with no errors in terms of grammar, syntax, and semantics.
Reliable Help with SSAT Writing Prompts Is Guaranteed
Here are some of the guarantees that a team of the best SoP services provides you with:
Quality assurance. Content that will be delivered to you will be of the highest quality without any issues in syntax and grammar.
Affordable prices. Apart from providing superior content, our pricing structure is tailored to be pocket-friendly to you, regardless of what grade you are in
Confidentiality. We have a strict confidentiality policy which in turn, ensures that any information you provide to us will not be disclosed to a third party.
Feel free to get in touch with our service and we will immediately assist you with comprehensive SSAT essay examples!