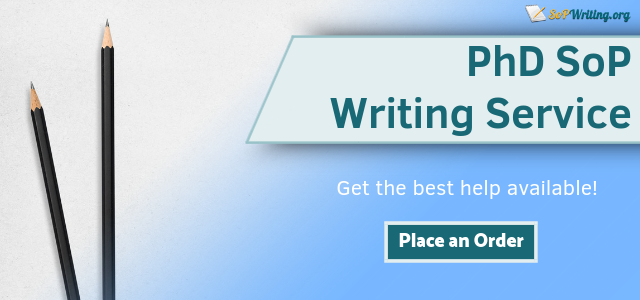 Writing a PhD SoP is one of the biggest challenges that many applicants face because this is one area that can affect their chances of getting accepted into the program or not. Reading a PhD SoP sample can help give you an idea on how to get it done and the good news is that there is no shortage of samples online. Of course, if you need that extra help, it wouldn't be a bad idea to hire a professional creative SoP writing service like ours to help you out.
How to Write SoP for PhD and for What
A statement of purpose is essential in just about every application process in the Academic spectrum. That's because SoP gives the recruitment department an opportunity to find out about the student's personality, and the passions that drive them to apply for a position at the specific college or university.
As a matter of fact, once you know how to write SoP for PhD, it becomes easier for you to be enrolled into the institution of your choice. Here are some of the reasons why a SoP is extremely important while submitting your application:
Let's the recruitment board know more about you. SoP is essential because they help the institution know more about the individuals that are applying. Additionally, they can help you stand out and get selected.
Can be used to justify slightly lower grades. If you happen to have lower grades than your contemporaries, you can write a great statement of purpose to justify this, and to further convince the recruitment board why you are the best option for this position.
Our PhD Statement of Purpose Sample
If you are looking for another sample SoP for PhD we are more than happy to provide you with one. We have several statements of purpose and academic letter of recommendation samples on our website written by our professional writers catering to different PhD courses. If you need help with yours, we can always find someone to write one for you so you can have that extra edge when you apply for your PhD course. For sure, you will love the outcome of your paper once you let our experts write it for you.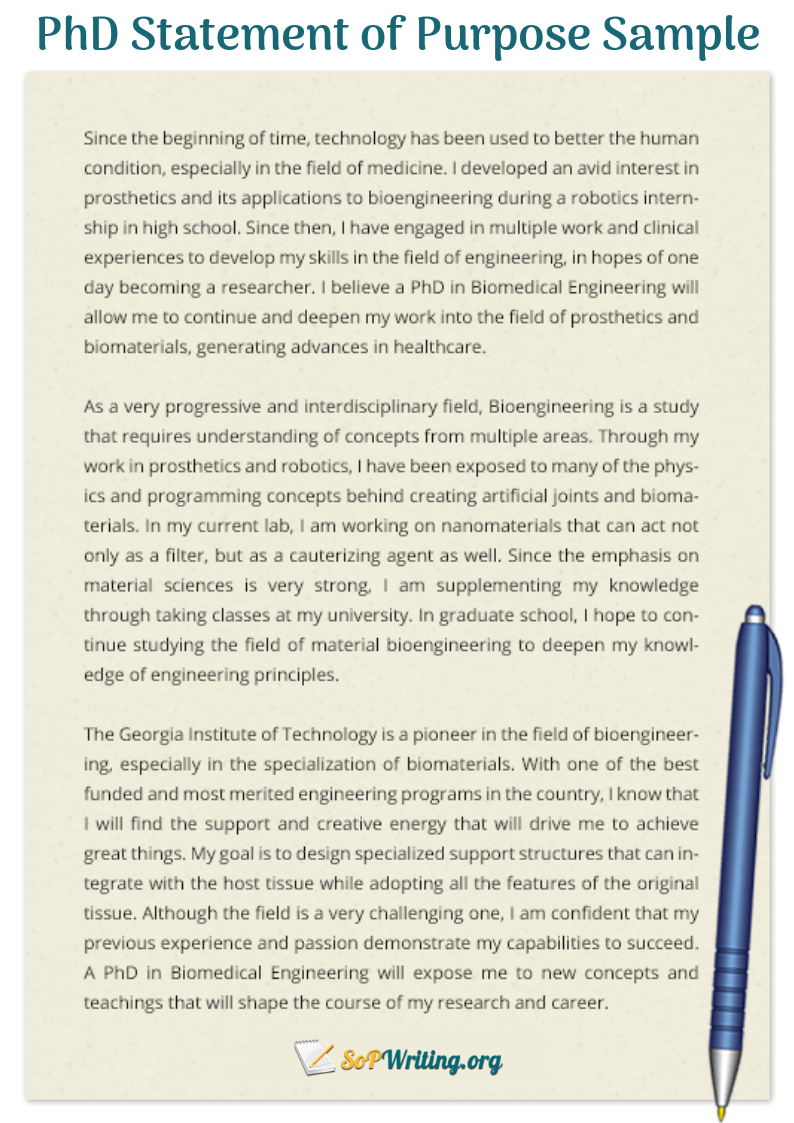 Phd Statement of Purpose Sample as Your Guide on Writing Your Own SoP
Now that you've known the importance of SoP in the application process, here are some of the do's and don't's when it comes to writing a SoP:
Don'ts
Procrastination. Don't procrastinate starting your SoP as this will make you rush through it the final minutes and hence, you won't be able to submit something worth reading.
Slang. Avoid slang at all costs as this shows that you are not serious with the application process. In turn, your application might be discarded.
Generic. Do not copy a generic SoP that you found online as this can easily be detected by the recruitment board.
Do's
Keep it short and simple. The best SoP is usually the shortest and uses minimal jargon. This way, you are able to express yourself and what you're all about without complicating the whole affair.
Proofread the content. Once you've completed your SoP, ensure to do some thorough proofreading and editing exercises to ensure that your content is free from any syntax and grammatical errors.
That being said, you can access our PhD statement of purpose sample by visiting our website, or contacting our support team via our toll-free number of email chat.
Benefits of Accessing Our PhD Statement of Purpose Service
If you like our PhD SoP sample, then place your order with us today. We are more than happy to share with you our expertise when it comes to building well-written statements of purpose at a price that is easy on your pockets.

Here are some of the advantages of accessing our PhD SoP writing service:
On-time delivery. We ensure to deliver your PhD statement of purpose sample on time and before the application deadline for your review.
Unlimited revisions. Not satisfied with the first draft that we've sent you? Well, we provide as many revisions as you would like until the content mirrors your specifications.
Quality assurance. We work round the clock to ensure that any order you place with us is delivered with the utmost adherence to quality.
Indeed, if you would like a comprehensive PhD SoP, get in touch with us today. Additionally, we also provide SoP samples for PhD for your review.
Except for PhD SoP sample, we'll show how easy it will be to write with us!