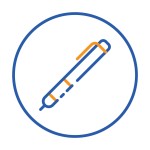 Writing a PhD SoP is one of the biggest challenges that many applicants face because this is one area that can affect their chances of getting accepted into the program or not. Reading a PhD SoP sample can help give you an idea on how to get it done and the good news is that there is no shortage of samples online. Of course, if you need that extra help, it wouldn't be a bad idea to hire a professional academic SoP writing service like ours to help you out.
Our PhD Statement of Purpose Sample
Ask for a PhD SOP Sample from the Pros

If you are looking for another sample SoP for PhD we are more than happy to provide you with one. We have several statements of purpose and academic letter of recommendation samples on our website written by our professional writers catering to different PhD courses. If you need help with yours, we can always find someone to write one for you so you can have that extra edge when you apply for your PhD course. For sure, you will love the outcome of your paper once you let our experts write it for you.
Order Your PhD SOP Now!
If you like our PhD SoP sample, then place your order with us today. We are more than happy to share with you our expertise when it comes to building well-written statements of purpose at a price that is easy on your pockets.
Except for PhD SoP sample, we'll show how easy it will be to write with us!