Examples of Our Creations
Haven't made your choice yet? Glance through our unrivaled samples, and don't be irresolute!


Glimpse Our Samples
Assess our samples to be assured that we can provide the quality you're dreaming of!
Get to Know Our Esteemed Experts
You can absolutely rely on our experienced and talented writers who are well-versed in all academic areas. Be sure of your success, as when hiring new specialists, we provide an arduous test to them.
Concentration on Your Result
Experience in Preparing Victorious SoPs

COMPUTER SCIENCE & MATHEMATICS
While being a masterful author, Kara needs to deal with computer/information science, programming, website design, applied mathematics, statistics, and data management technology so as not to be like a fish out of water. Of course, this is not a full list of the fields she is competent in. You can, in fact, double or even triple it.

HEALTH ADMINISTRATION & ASSISTING
Garry is a well-rounded specialist in medicine who can assist you in composing an admission document for hospital administration, pediatrics, veterinary assistance, and the like. Due to his writing skills, you can be sure about the absolute quality of your text.

SOCIAL SCIENCES & LAW
Tim's vast experience in the legal field, including working as an in-house lawyer and counselor-at-law assistant, together with in-depth knowledge of criminology and forensic science, guarantees your complete success. Also, Tim can provide a 100% personalized, smooth, and engaging statement.

BUSINESS & ADMINISTRATION
Teresa will help you to prepare an SoP in business, marketing management, and human resource development. She knows well how to sell your candidacy properly by demonstrating your strengths, background, and experience to the admission representatives.

ARCHITECTURAL ENGINEERING
Architectural engineering is Dan's cup of tea. He cannot live without the creation of new designs because he has got a lot of unordinary ideas. He is a truly passionate professional who loves his specialization like nothing else. He will upgrade your SoP beneficially for you to gain a competitive edge over other applicants.

SCIENCES: BIOLOGICAL & PHYSICAL
Andrea specializes in genetics, ecology, geology, and atmospheric science. Most students say that cooperation with Andrea is a real success: she examines your order meticulously by defining your most beneficial traits to represent your candidacy efficaciously to the selected department. Extra attention is paid to the structure of your SoP.

EDUCATION
Katherina is an experienced private school tutor who knows how to deal with students and communicate with other tutors. Besides, she's an excellent academic writer who can assist you with educational administration, career/business education, and coaching. She'll show you how to compose a catchy admission document in several days.

HEALTH SCIENCES & TECHNOLOGIES
When you need to present an SoP in nursing or general medicine, ask Daniel for help. Just share all of the requirements with him, and everything will be done ahead of the deadline.

COMMUNICATIONS
Need to write a statement of purpose in mass communications, advertising, or digital media? Lacy is a top master of the above fields and is aware of the latest news in the digital marketing sphere. Moreover, she always meets the academic requirements when executing orders and revises all texts, eliminating even the slightest typos. Superb quality will be guaranteed if you request assistance from her!

ENGINEERING TECHNOLOGY & DRAFTING
Automotive, electrical, and electronic engineering, industrial production, and some other technology-related areas are the fields that Ian is competent in. He's our engineering geek who fulfills each order carefully for clients to meet their targets. He takes the whole responsibility when dealing with your SoP to provide the most riveting description of your accomplishments.



Looking for a Fabulous SoP?
Win against other applicants in this competition! Get our pro help with 20% off!


Statement of Purpose Sample Online from Us

Need to write Visa SoP for applying to an international university? Then discover a great SoP visa statement sample to get a better grasp of it!

Statement of purpose sample provided here will be easy to follow. This sample will tell you how to present main aspects of the student's candidature in an appropriate manner. This SoP sample is created by our team of experts and listed all the major elements in it wisely. Use this statement of purpose example wisely and observe the way things incorporated into it. Mainly, observe the way content developed with telling effect in it.
Check This Graduate Statement of Purpose Sample Written by Our Professional Writers
Science will usually never work out as intended, but it will teach you things every time. During my time working on osteoarthritis research, I have learned the most through my failures. It was through such a failure that my mentor and I stumbled upon the PF-Kb pathway that plays a vital role in the inflammation that drives arthritis. I understand that research takes patience, and above all, perseverance. Having collaborated with numerous researchers from the University of Rochester, I have seen firsthand the cutting-edge studies that happen there, and I feel like URoc's program in Aging is exactly where I want to pursue my graduate studies.

Since high school, I have worked in various laboratories that all pointed me towards a career in arthritis research. I worked at the Food and Drug Administration for two years, testing NSAIDs for inflammatory side effects. Afterwards, I worked part-time at the National Institute of Aging as part of a team dedicated to observing the increase in cytokine activity in older cells. While attending the University of Miami, I worked with Dr. Nicholas Kidwell to elucidate the various molecules involved in the PF-Kb pathway. Although the PF-Kb pathway is essential to activating the immune response, there are many antagonists to the system that are not yet understood. In my graduate studies, I want to focus on these molecules: namely, how do they function, and how are they activated?

The Graduate Program in Aging Studies at the University of Rochester has a strong presence in the field of Arthritis studies. Researchers such as Dr. Noel Stein have already elucidated the mechanisms of enhanced cartilage breakdown, and many more are working tirelessly to induce anti-inflammatory responses. A PhD from the University of Rochester will provide me invaluable tools and knowledge to develop arthritis medications and vaccines, in the hopes that one day nobody will have to suffer from joint pain.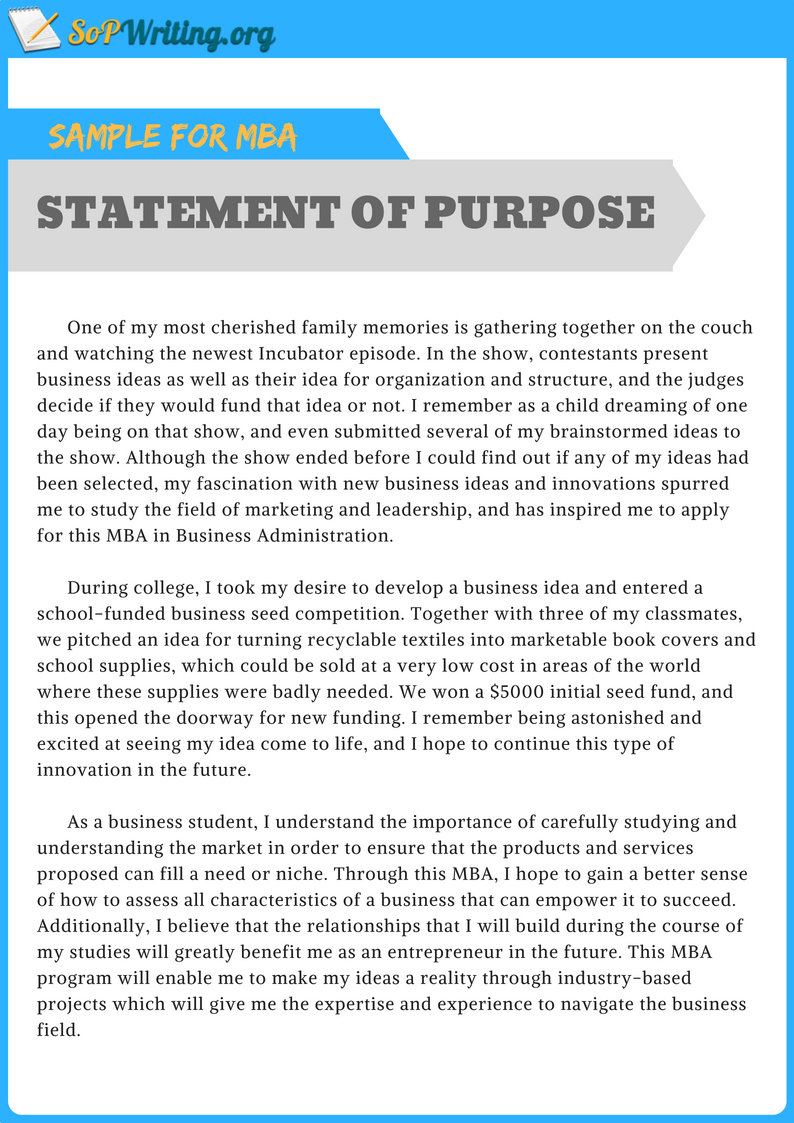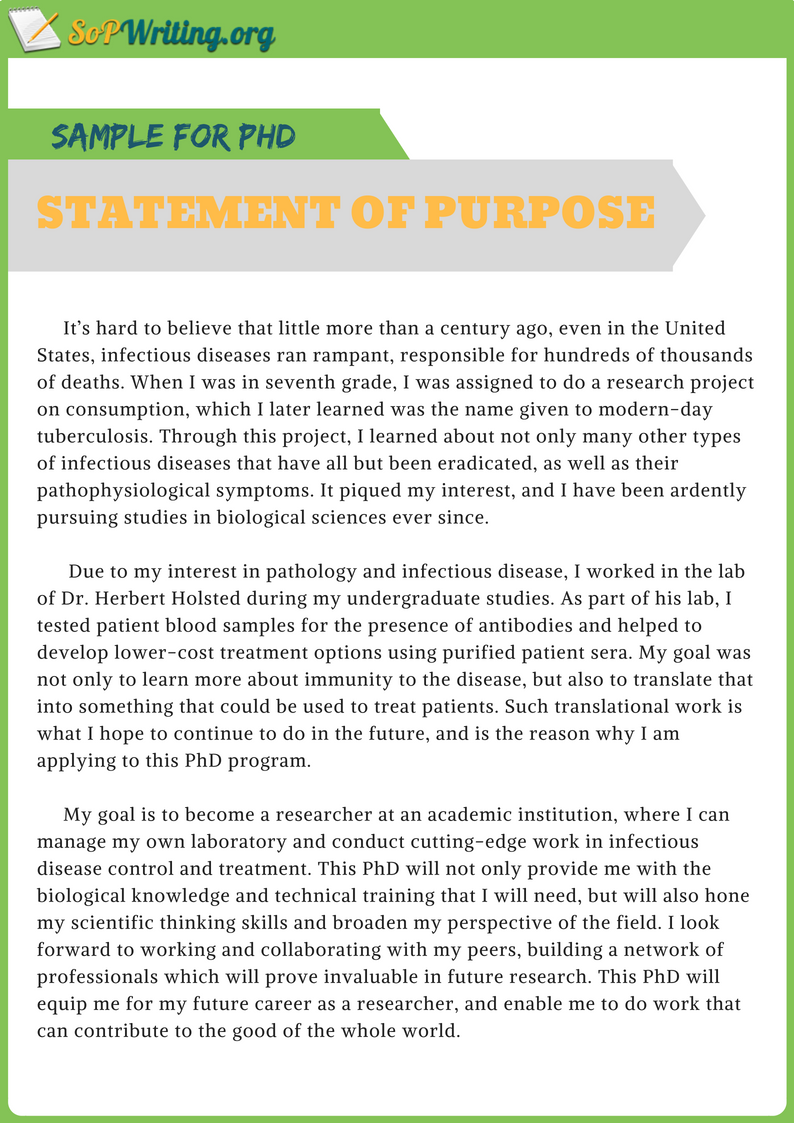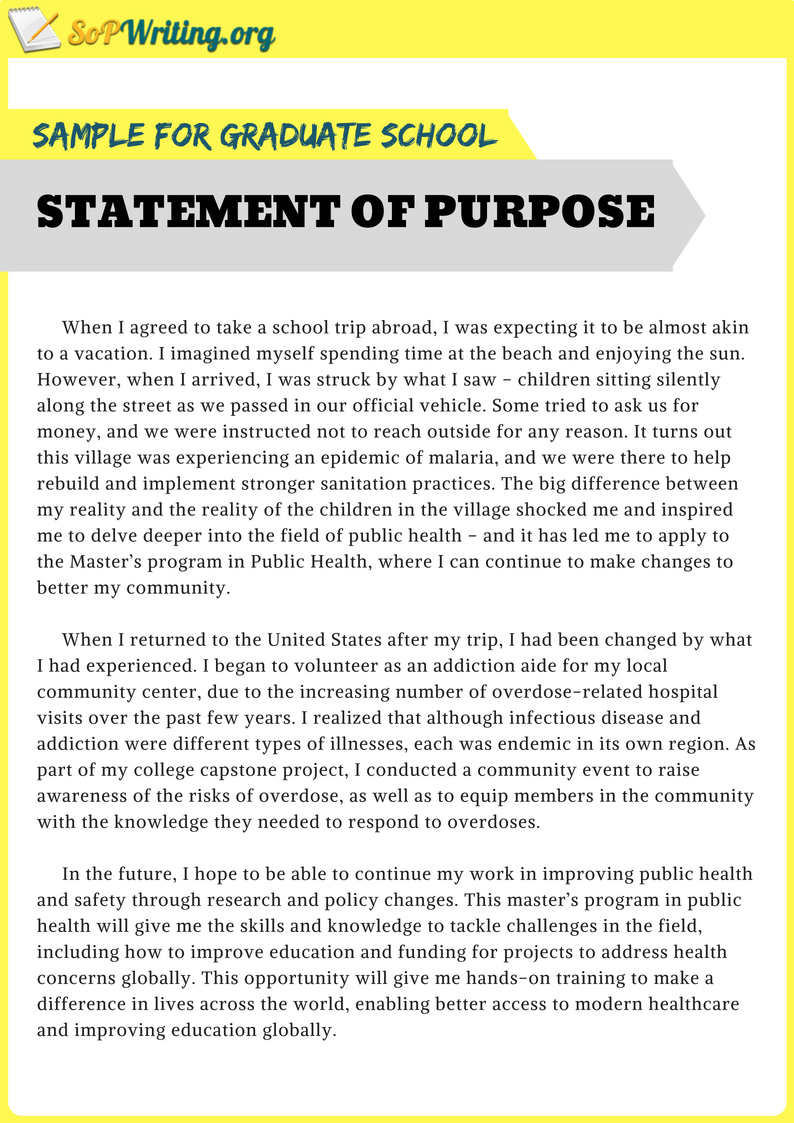 Best Statement of Purpose Samples
Statement of purpose samples is always a great help while used wisely. You have to study the real essence of the sample and follow similar ways for incorporating your skills, qualifications and additional information. Also, it is always essential to keep this information in chronological order too. This example SoP can offer great deal things involved in its effective creation. You have to write it from the competition perspective in a way the SoP can be more special than other applicants' SoPs and selection team should find it more appropriate and suitable too.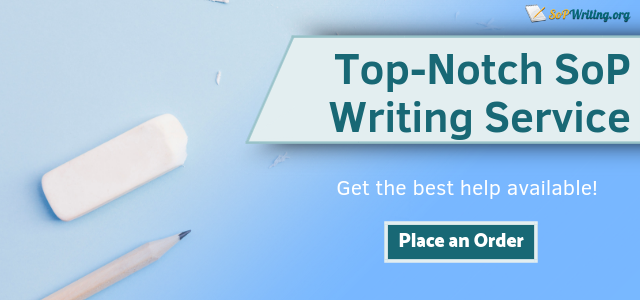 Best SoP Samples Can Give You a Better Grasp of Writing a Great SoP
There's no denying that having a great statement of purpose is vital in ensuring that you successfully apply to an academic institution of your choosing. That being said, some individuals find it difficult to do this because they lack the skill and resolve to write a great statement of purpose that sets them aside from other candidates.
This being the case, we avail our superior example of statement of purpose writing services to make things easier for you. If you're planning to get started with your statement of purpose, here are some great tips that you can incorporate into your content:
Start your SoP early. One big error that most individuals make is starting their statement of purpose really late. We're talking three days before deadline day! As a rule of thumb, ensure to start it as soon as possible to give you ample time for editing and proofreading.
Write concise details. Remember that the brief data is always recommended to write in the statement of purpose.
Read before writing the content. You must know about the content that you have to include in the statement of purpose.
Write the first draft. It's essential that you first write something to get yourself going. Once this happens, you can create the first draft. With time, you can work on the draft until you feel that it is ideally how you wanted your SoP to look like.
Tie the introduction and conclusion together. This is important because it shows that your SoP has a flow to it. Your SoP is like a mini autobiography about you, so make sure it makes a lot of sense and also ties to the field of study that you are applying to.
Edit and proofread your content. Last but not least, you should edit and proofread the content that you have to ensure that it does not contain any syntax and grammatical errors. Remove the typos by excluding all the meaningless words and sentences.

As a first-time writer of SoP, you need to avoid these mistakes without any doubt:
Never make any errors while writing the data about personal qualification and work experience.
Rectify the mistakes of vocabulary and add understandable words.
Follow the most reliable sample SoP format.
Do practice rather than relying on the rephrased version of the previously written SoPs. you don't need to paraphrase the copied statement of purposes.
Writing the walls of text without adding the relevant content. The text work should be meaningful.
Not following the good templates to get the quintessential results of the writing. The best templates are the one that seems more understandable to you.
These are the few mistakes that you have to avoid while writing the statement of purpose. You must not be a pro for writing the SoP by yourself.
Sample SoP Format for Proper Structure of Your Statement of Purpose
The SoPs can be written in vast types. There are numerous things that should be kept in mind for getting the pro-like statement of purpose. Many of us make several mistakes during the writing, editing, and formatting of the Statement of Purpose. You need to follow these steps to format the PhD SoP sample. Also, share the feasible tips to make the SoP ideal without any doubt.
| | |
| --- | --- |
| Required Font Size | There are no two views about the standard font size of the SoPs. All the well-versed statement of purposes are written in the 11 or 12 font size. This size is neither large nor too small to read. Secondly, the text with big fonts doesn't get more attention of the readers. |
| Font Style | Well, the standard font style for the SoPs, LoRs, business letters and many such types of documents is Times New Roman. You can also go for the Arial style. But doing the experiment isn't acceptable at all. |
| Required Line Spacing | The SoP writing doesn't require many spaces between the lines. The 1-inch space is enough to make it acceptable and as per the required format. The sample SoP for MBA is also written with the same line spacing. All in all, you need to focus more on the spacing of the lines. |
The overall structure of statement of purpose sample is quite simple. One just has to follow a few important tips to polish up the skills of writing it in a professional manner. There are numerous ways to compose the statement of purpose in the simplest way. You just have to focus on mere writing style and the guidelines.
Best Statement of Purpose Samples from Experts
To ensure that we provide you with the best SoP samples, we have divided our team into the following departments:
Writers
The writer's team consists of professionals that have dabbled in SoP writing for years. Here are some of the reasons why they are so reliable:
They are highly educated and know the ropes around writing a captivating SoP.
Personal approach. Adopt a customer-friendly approach when dealing with clients.
Native Speakers. To ensure you receive quality SoPs, all our writers are native English speakers.
Plenty of successful admissions. Our writers are responsible for many submissions that have resulted in successful admissions to top-tier universities around the globe.
Editors
Our editing team is one of the most industrious departments of our SoP service. Here are some of the reasons why:
Are experts in quite a number of fields. Our editors have knowledge in a myriad of editing fields to ensure successful editing techniques are applied.
Years of experience. Our editing team has been undertaking to edit for years enabling them to amass great skills to do all sorts of editing work.
Cooperative with customers. They provide full support to you as the customer to ensure that all your needs have been met.
Support Team
We have a stellar support team that provides the following services:
24/7 assistance. The team is available throughout the day to help with all your queries regarding your order
Availability via phone/email and text. You can get in touch with our support team through whichever preference is suitable for you.
Conclusively, you can get in touch with our team today for the best statement of purpose samples around. We will immediately get in touch with you once you place an order with us!
So, if you need a quality statement of purpose samples, we are here to provide you with the best!