A Masters in Business Administration (MBA) is the most applied for a graduate degree and can have a significant impact on your future career. But as such you will find that place to study for your MBA is highly competitive and they will only admit a fraction of those that apply. Your motivation letter for masters degree application is going to be one of the main factors that will decide whether you will be admitted or not. Your qualifications and work experience while impressive are likely to be very similar to many other applicants. Your motivational letter for masters is therefore often going to be the only part of your application through which you can state your case and make your application stand out. Also known as an
MBA statement of purpose
or a personal statement, your motivation letter needs to be written in a way that is going to show you in the best possible light.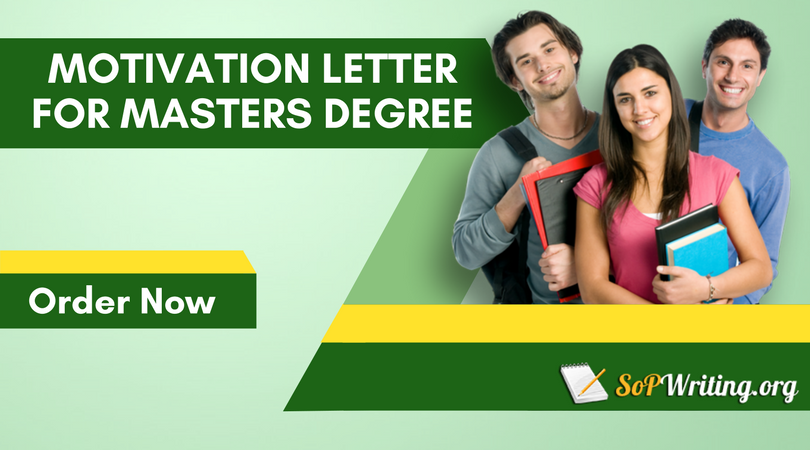 Our SoP writing services have been helping applicants to MBA courses for more than several years. Our experts fully understand what it will take to get you noticed through your persuasive writing when applying to the university that you have chosen. With our help, you will learn how to create a masters motivation letter that will impress the admission committee and get your name on the tip of their tongue.
How to Plan for Your Motivation Letter for Masters Degree
A motivation letter is not something you will quickly knock out on a wet Sunday afternoon when you have nothing else to do. It will take careful planning and a lot of thought for your motivation letter for masters degree if you are to make yours a success. The better that you plan your letter the more likely you are to get the results that you are looking for. If you look at any sample motivation letter for masters degree you will see that a huge amount of information needs to be communicated effectively. The best letters are those that are perfectly tailored to your application so you should:
Always carefully review the information available for the program you wish to apply to so that you can identify exactly what they value in their students. Make a prioritized list of those requirements so that you can ensure that you will cover them within your application.
Match your own skills, experience, qualifications and personal qualities to that list so that you can see just how you can show how you are a perfect match to their requirements.
Create a clear outline of your writing so that you can see just what you need to cover your writing and where. You will need to cover all of the following areas:

Why you are applying to study for an MBA, what is your motivation?
What are your future career plans and why is the MBA important to them?
Why are you applying to this specific MBA program at this university?
What skills and qualities do you bring that make you a perfect choice?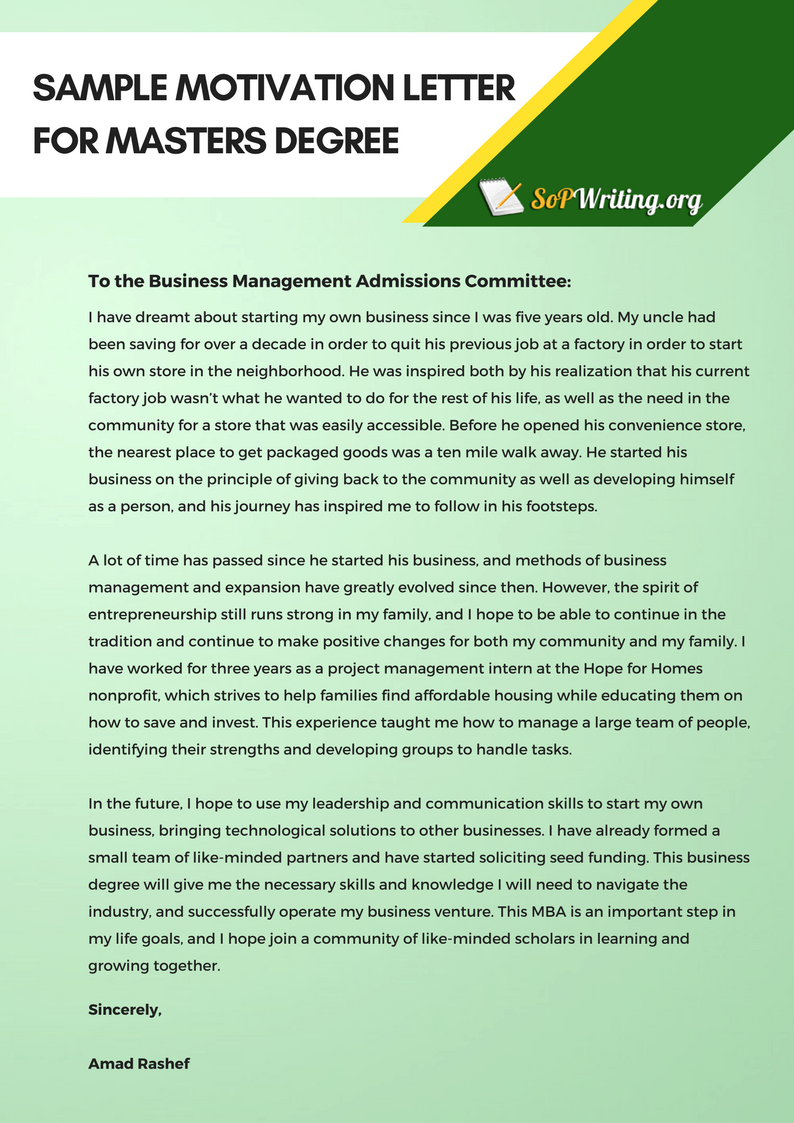 How to Write a Highly Effective Motivation Letter for Masters Application
It is not enough to just meet the standards laid down for students to their program. They will have many other applicants who will also meet their requirements so you must ensure that your application makes you stand out in some way. Start by looking at a motivation letter for masters sample. Good examples can provide you with a huge amount of insight as to how your own must be written and the areas that you should be covering. However, no matter how good a sample letter of motivation for masters programme maybe you should never copy any part of it for your own.
The following top tips for writing your letter of motivation can be followed to help you ensure that your writing will stand out:
Always:
Ensure that your opening line is able to get the attention of the reader fully. This is your hook and you want it to be unique and able to make the reader want to learn more about you.
Tell a story: use an anecdote around which to form your letter. This will provide you with a clear flow and something to keep the reader's interest as they read through your letter.
Use clear examples to illustrate your skills and achievements. If possible quantify your achievements.
Write using simple and clear English that is easy to understand without ambiguity.
Get to the point, your word count will be limited and you have a lot to cover within your letter.
Write about yourself as this is a statement about why you are motivated to study for an MBA.
Proofread your writing very carefully so that no mistakes are able to slip through.
Never:
Use clichés: these are tired and show a lack of thought on your part when writing your letter.
Don't use acronyms, slang, or fancy words or language that may be misunderstood or simply not understood at all.
Don't lie within your statement: if you are invited for an interview these lies may be easily uncovered.
Don't complain or make any excuses within your writing.
Remember what the universities themselves say about motivation letters and statements of purpose:
Stanford University
:
We attach great importance to the statement. A thoughtful and well-written statement often makes the difference between admission and denial.
UC San Diego says:
The Statement of Purpose is an important part of the online application and is given careful consideration in the selection process. Be concise and specific in preparing your statement: give information that will aid the selection committee in evaluating your potential for completing a graduate program of study at UCSD.
Cornell University Graduate School says:
The Statement of Purpose is your opportunity to help reviewers better understand your academic objectives and determine if you are a good match for the field to which you are applying. The statement of purpose should convince the faculty on the selection committee that you have solid achievements behind you that show promise for your success in graduate study.
We Can Help to Write the Most Effective Motivation Letter for Masters Degree Applications
Our one aim is for you to be able to confidently make your application knowing that it will help you to stand out from the many other applicants that are after your place. We achieve this by providing you with an expert that holds a minimum of an MBA of their own and fully understands all aspects of the application process and the expectations of the program you are applying to.
All of our experts work closely with you to ensure that they can draw out the personal stories and achievements required to make your statement fully reflect what the committee will be looking for. All writing through us is unique and prepared from scratch, it is also proofread very carefully prior to delivery to you to make sure there are no mistakes within your letter. We provide a full satisfaction money back guarantee and will always deliver the support that you request to you on time.
To order our support simply:
Complete the order form shown on our website at any time
Pay for the services ordered using our secure systems
Discuss your needs with the experts assigned to you
Review your draft letter of motivation and request any changes you feel may be needed
Take delivery of your finished, perfectly written letter on time
Don't struggle with your motivation letter for masters degree applications, work with our experts to give you a real edge over those competing.