What Is an Immigration Waiver Letter?

An immigration waiver is a formal written request to immigration authorities that a condition or obligation be set aside that would normally be required. The waiver letter for immigration is usually accompanied by a specific form provided by immigration.
Examples of common waiver for immigration letters include:
Fee waiver: there are many different application fees that can be waived. A request for application fee waiver includes form I- 912, and the completed form for the type of application you are requesting the fee waiver for. The waiver letter for immigration, in this case, is your explanation of why you need a waiver, and proof of your need.
Waiver of inadmissibility: if an individual is denied entry to the U.S due to inadmissibility, they can have that inadmissibility waived by proving hardship. This requires putting together a I-601 packet which can be quite extensive. The waiver for immigration letter more or less summarizes the contents of the I-601packet.
Whatever requirement a person is requesting they be exempted from normally has a specific immigration form that must also be filled out.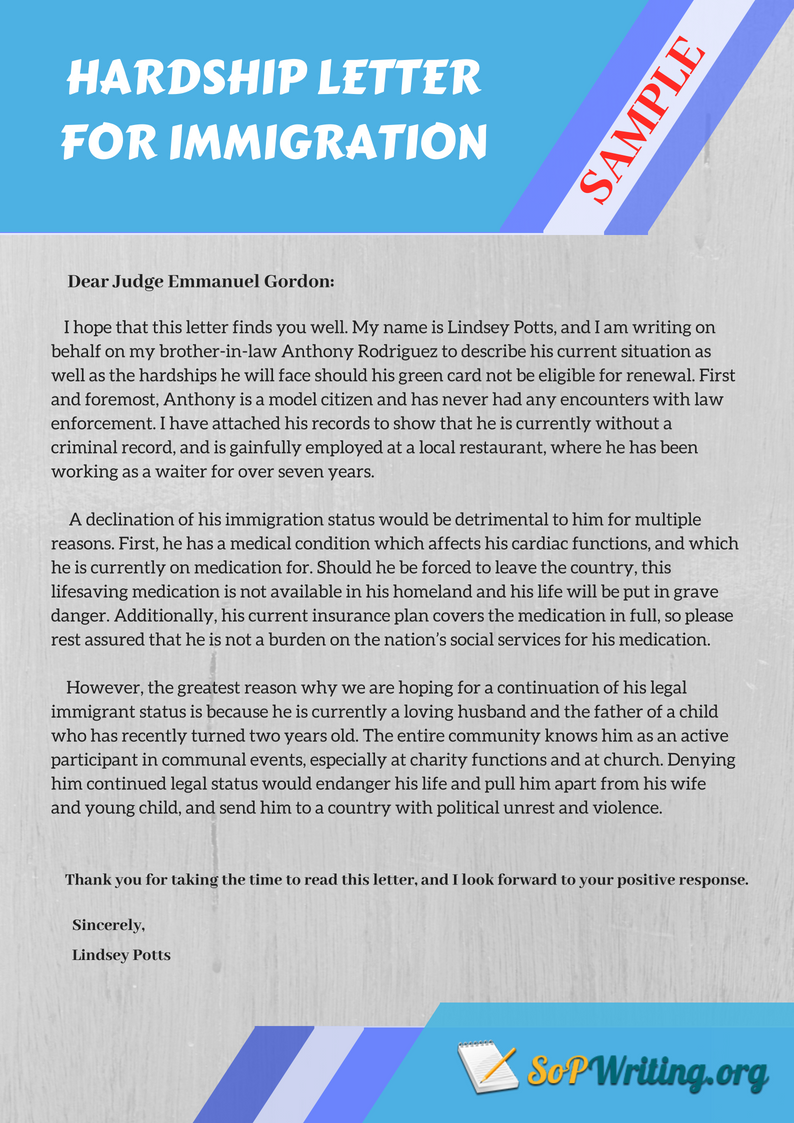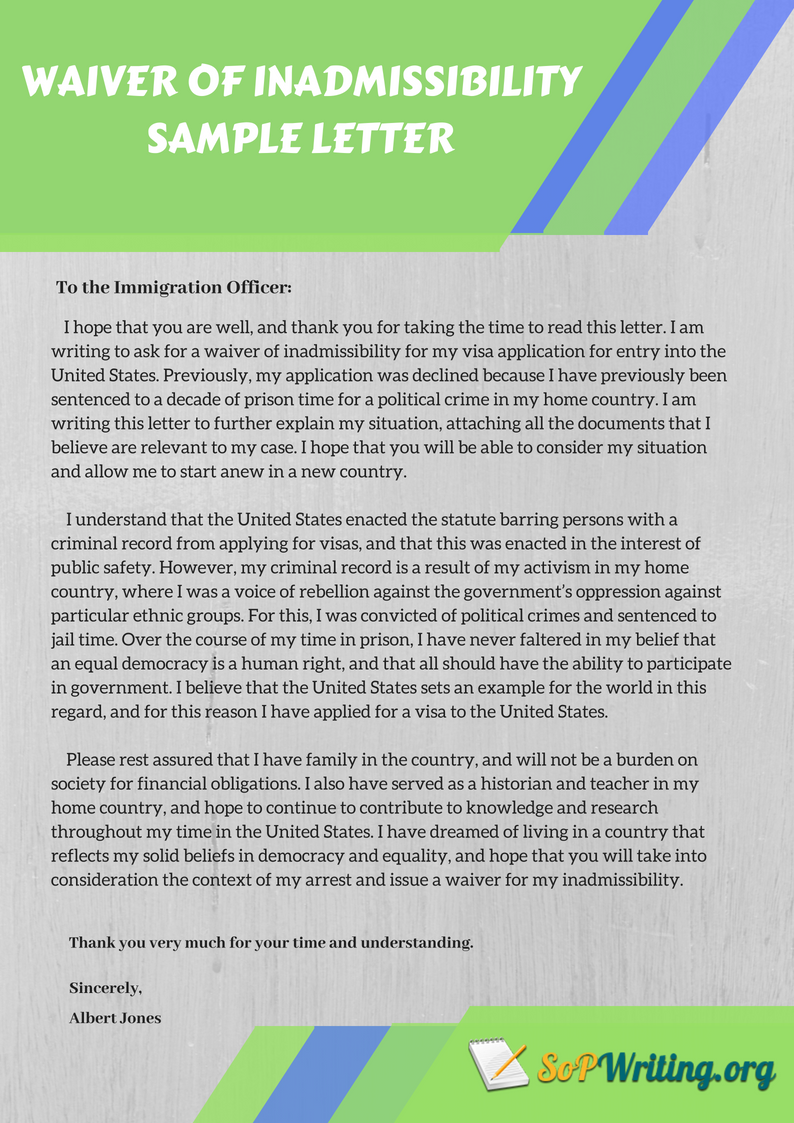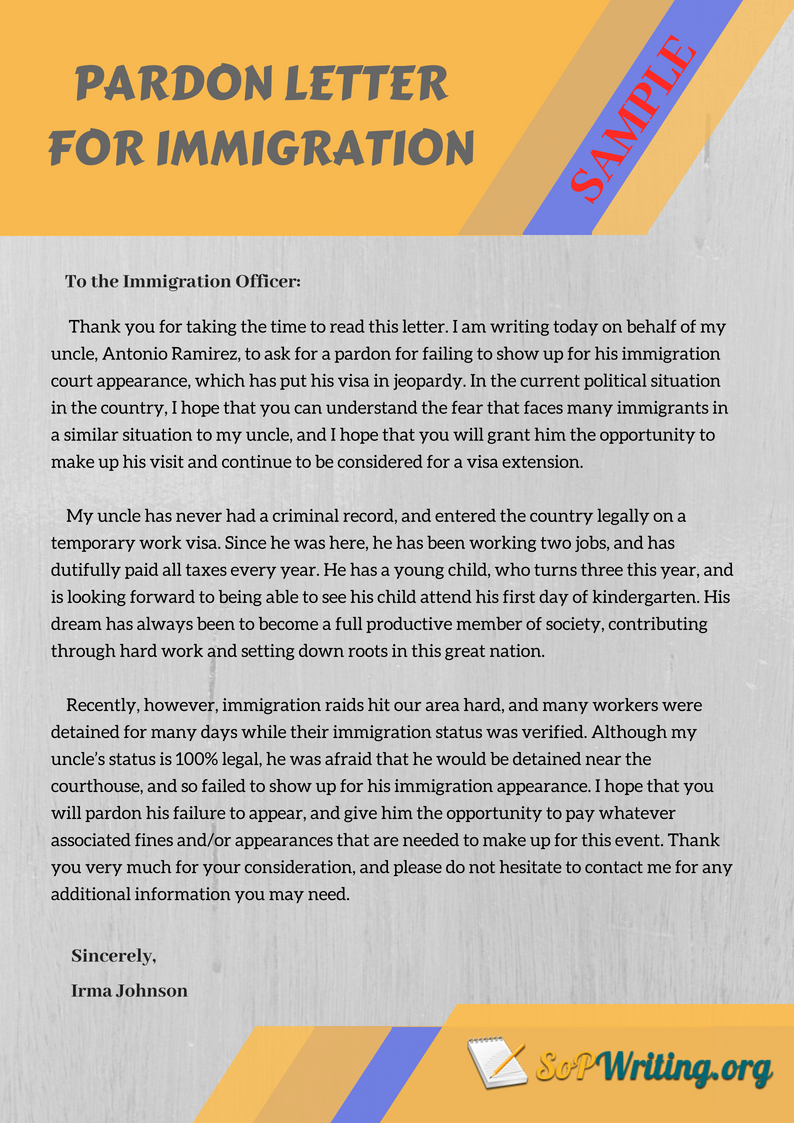 Basics of Writing an Immigration Waiver Letter

As there are so many different fees that can be waived and different circumstances that dictate which form be used, it is always a good idea to check with immigration for information about which form applies to your specific situation. Regardless of the form or situation, the immigration letter waiver for many situations is essentially the same with only slight variations.
The basic of how to write a letter for immigration include:
Write an introduction: the introduction is a one or two sentence paragraph that explains what it is you want to have waived.
Main body: the main body of the waiver letter for immigration explains why a waiver is justified. In most cases, justification is due to some type of hardship.
Hardship can be claimed in a number of areas:
Financial
Health
Education
Children
Cultural considerations
Family Ties
Supporting evidence for the hardship claimed must be included and documentation of evidence provided. For fee waiver, financial hardship is what must be shown. An immigration waiver letter for inadmissibility may show hardship in all of the areas depending on the particular situation.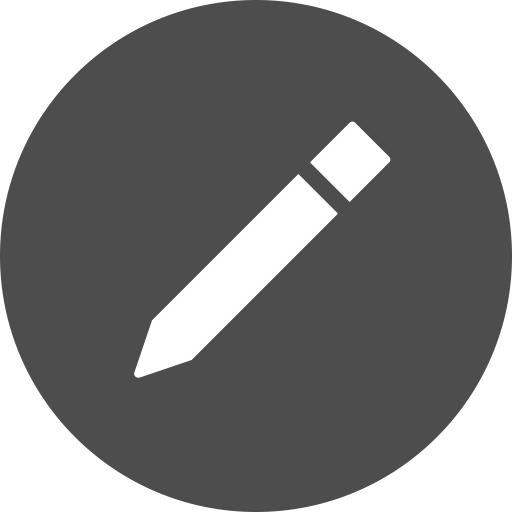 An immigration waiver letter can be used by virtually any immigrant, although there is no assurance that requests for waiver will be granted. However, demonstrating hardship convincingly greatly enhances the odds of approval. In case you need a good I 912 fee waiver or a hardship letters to immigration, call us to assist you as well.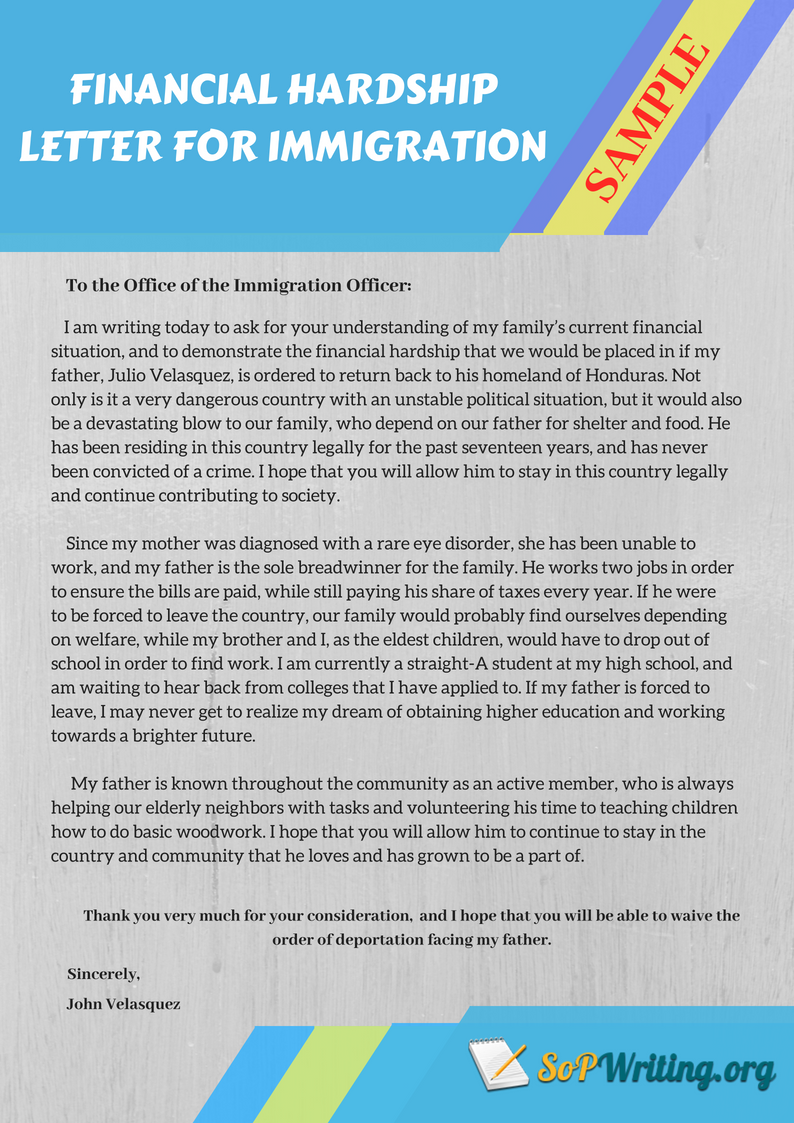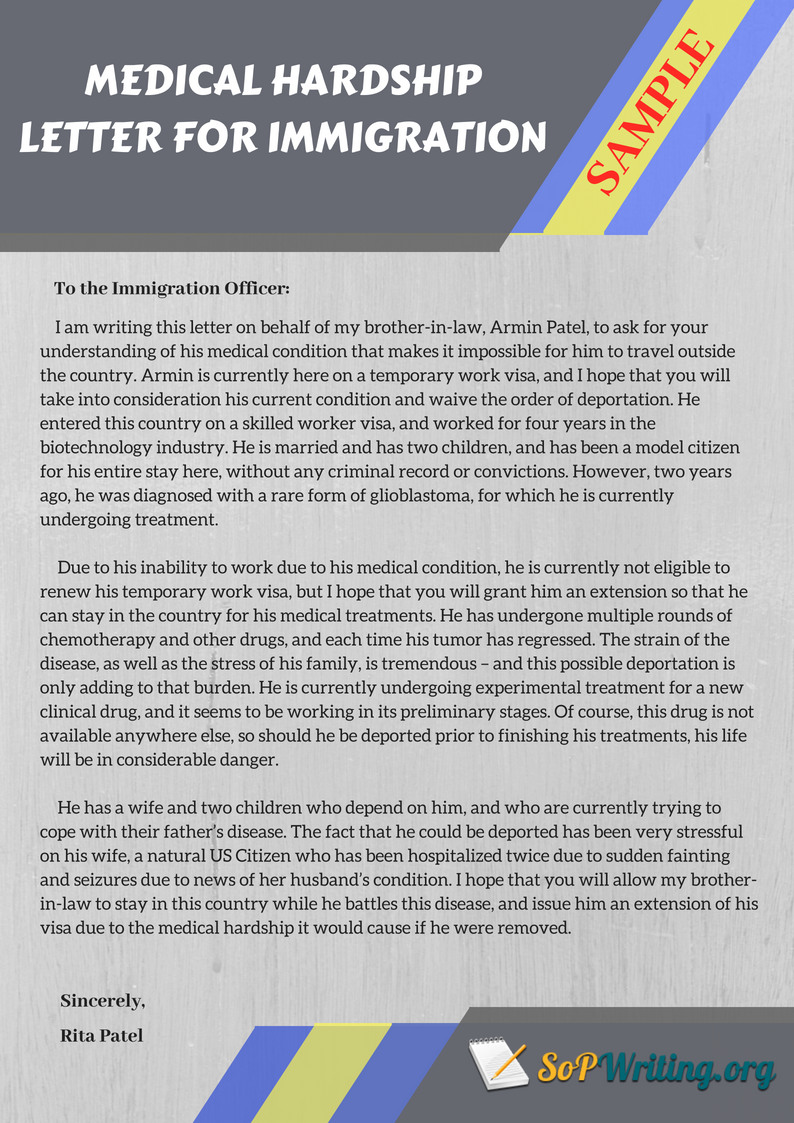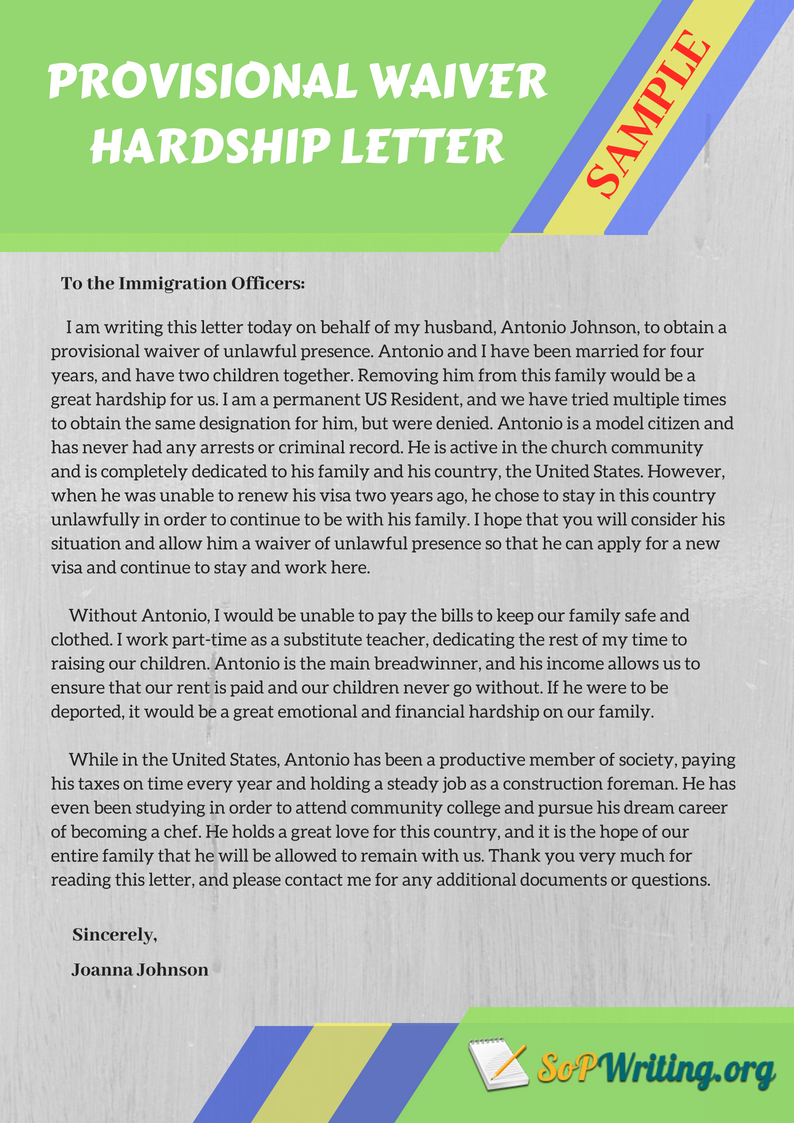 Get Immigration Waiver Letter Assistance from Our Experts

Our writers are all advanced degree holders and very experienced with the waiver of immigration letter or even GRE fee waiver. They can write an original waiver letter for you tailored to meet your specific requirements, based on information you provide.
Using our service includes:
Guarantee of complete satisfaction and on time delivery with every letter we write
Final proofreading free as a standard part of our service
Inexpensive rates. Discounts are available
Customer support available 24/7
Also if you want to be happy with your work, you can check your SoP and get the best SoP help from our team.
For immigration waiver letter writing by experienced professionals, contact us with all of your writing needs!