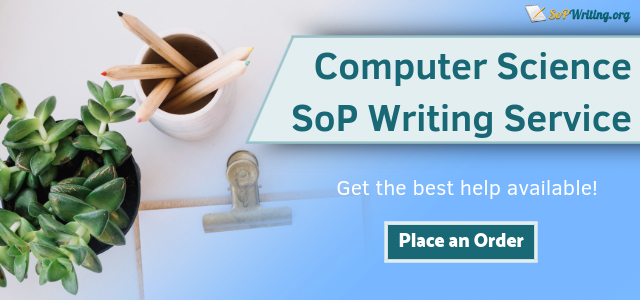 Writing a computer science SoP is one part of the application that students dread because they are not really sure what to write about and whether they have the skills to produce an impressive statement. Unfortunately, SoPs are important that is why if you are worried that your writing skill isn't up to par consider hiring a professional writing service instead to help solve the problem with writing science statement of purpose. The good news is that you don't have to look very far for one because we are here to help. If you need to create a scientific statement of purpose we will assist you along the way.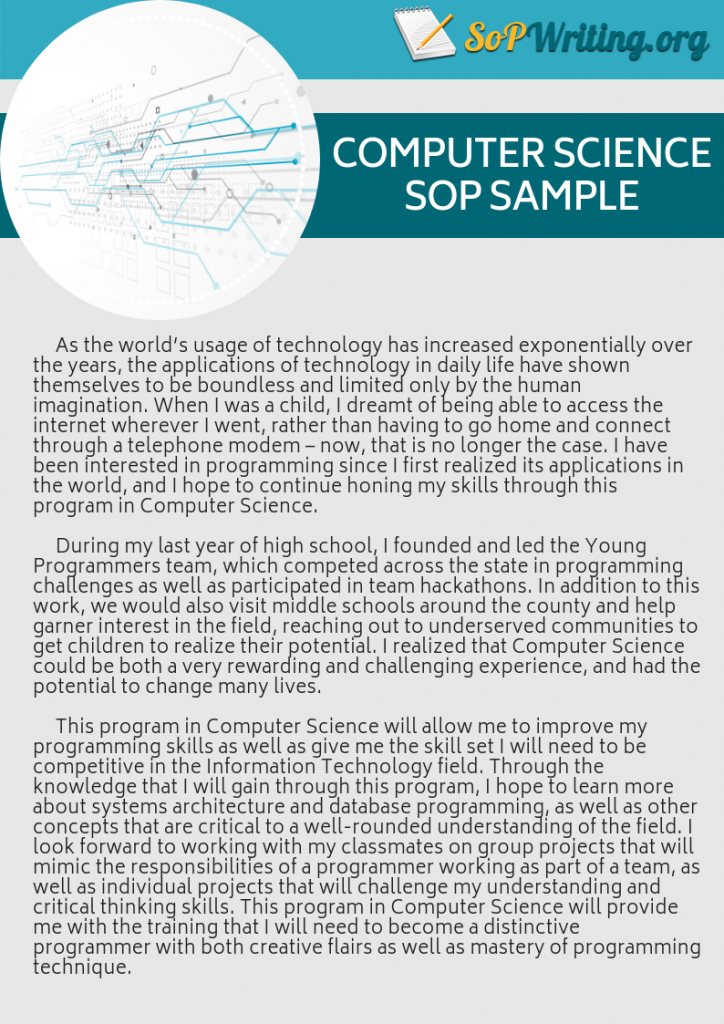 Tips on Writing Your Computer Science Statement of Purpose
Computer science is a complex field of study that focuses on the engineering and experimentation of computer design, applying the computation and implementation of systematic studies so as to produce a feasible structure. Many students today desire to have a career in computer science thanks to its lucrative opportunities, as well as the hype regarding Silicon Valley. That being said, if you're planning to have a career in computer science, it is vital that you have a quality computer science statement of purpose to improve your chances of acceptance during the application process.
Here are some helpful tips that you can use when it comes to crafting a statement of purpose for computer science:
Make your story compelling, not just plain text. It is vital that you make your story as compelling as possible. This is to enable the recruitment board at whichever institution you are applying to be impressed with you.
Your statement should be quantifiable. Despite the fact that it is a statement of purpose, try as much as possible to not make it sound like a thesis about yourself. This means that your SoP should not only be qualitative but have a quantitative element too. You should have a timeline in place that describes your success and achievements.
Customize your essay to show who you really are. One of the biggest mistakes that thousands of students make when applying to a certain institution is that they simply copy-paste the storyline and structure of a SoP they found online, not knowing that they are one of the hundreds of thousands doing the same thing. Hence, not only do they come out as generic, but also limit their chances of a successful admission. That being said, your SoP should be as unique as possible.
Top 6 Universities That Have the Best Computer Science Programs in the World
If you'd love to be the crème de la crème in the field of computer science, here are the top 6 universities that you should be applying to as we speak
University of Hong Kong. The University of Hong Kong one of the most well-renowned universities in terms of global connections, social impact, world-class research programs, and academic excellence.
Stanford University. The fact that Stanford University is located in the heart of Silicon Valley is one of the reasons that it is considered one of the best universities to pursue a career in computer science.
Duke Kunshan University (DKU). This university was brought to life thanks to a Sino American partnership between the U.S. and China, that is the Duke University of the United States. It gives greater access to students to global universities.
King's College London. King's College London is hands down one of the leading universities in the world, providing cutting-edge research and world-class studies in a myriad of career options.
University of Surrey. One of the largest global communities for students, the University of Surrey provides life-changing research and education to many students around the globe.
Southern University of Science and Technology. This University was incepted in 2011 with the mission of improving Chinese education and in turn, has become one of the most important technological universities in the world.
Conclusively, if you would like the assistance of your statement of purpose for computer science, you can get in touch with our service today. Additionally, you can also view a cs statement of purpose examples.
Get Professional Help for Your Computer Science Statement of Purpose
Regardless of whether you need help with writing your SoP science or for computer science you can come to us because our writing service specializes in this part of your application. We have been in the business of developing impressive statements for some time now so your order won't be too difficult for us to handle. When you place an order with us make sure that you supply us with all the details we will need to customize your statement. This way, we will be able to deliver a well-written SoP that will go well with your computer science application.

Winning Statement of Purpose for Computer Science
Although there will be plenty of students applying for a course in computer science you can still make your application stand out by delivering a professionally written SoP. We can help you create a good impression with your SoP because this is what our writers are good at. After years of developing statements of purpose, we know what schools are looking for in their applicants and combine this with our writing skills and you'll get the best statement there is. Besides, you may know more about statement of purpose for engineering on our site.
Your computer science SoP is in good hands because our writing company is comprised of professional writers and editors who can help make your SoP stand out. Choose our writing service for all your SoP writing needs and get big savings from us.
Hire our writing company and we'll make your computer science statement of purpose stand out!