Let us craft a powerful Visa application letter to help you succeed
Pass an application letter to us and pack your bags, as our experts know well how to craft the best one, leaving visa officers no chance to doubt!

Quality guarantees that come with each Visa application letter
Need a flawless visa application letter? Specializing in the creation of application docs, we know how to surpass your expectations!
Personalized Documents Only
Get a visa application letter that is entirely unique, tailored to your needs, and meets all the visa officers' requirements! Our custom documents are written totally from scratch to ensure the complete addressing all your demands.
Strong Text to Approve Your Request
Our writing experts are highly skilled at producing outstanding documentation to satisfy your needs. We make sure that the writing style, formatting & length are correspondent, and officers can only approve your tourist application.
97% Success Rate Among Customers
Our dedication to excellence is demonstrated by the 97% approval rates among tourist visa requests from our customers. Their feedback prompts us to work closely with the letter writers and enhance the quality we provide.
Direct Chat with the Writer
Communicate with your writer directly to provide feedback and ask any questions to ensure the tourist visa application letter meets your specific needs. In the Customer Area, you can also monitor the order status & request edits.
14 Days of Free Revisions
After receiving your letter, you'll get a 14-day costless revisions period. Our goal is to come up with a flawless tourist visa application that perfectly captures who you are, so we're ready to revise it as many times as needed.
Money-Back Guarantee
Be confident in the top quality of writing services received, as you can always receive your money back if the visa application letter you get isn't satisfying you, it has some issues we cannot fix, or your plans are just changed.
How we work on a letter for tourist visa application
Complete the Form
It won't take much energy: just fill out the form to provide the writers with the needed info and click on the payment button. If you want to get a highly personalized letter for tourist visa application, remember to give us more details, such as your acquirements, travel goals, formatting rules set out by the visa application center, etc.

Also, keep in mind that you should fill in our Questionnaire. It will help to draw a fuller picture of your candidacy. When you do it, just add the file to your order form. Don't worry, all of the information will stay confidential, and no one will get access to it.
Download a questionnaire

Make a Payment
After you pay for your order, the writer will start working on your tourist visa application letter. Be sure all financial operations are safe and protected. Furthermore, you will receive a notification confirming the transaction by email.

Payment methods:


Secure:




Customer Area
After the order payment, you'll get access to your private customer area and login details. Modify them later if you find something inconvenient. Also, you can communicate with the writing expert and manager personally. Additionally, you can download your sample letter for Canada tourist visa application, ask your writer to revise it, and place more orders.


Keep Up to Date on Progress
You'll be informed about all updates by email. Also, you can choose to track your orders fully with the help of SMS updates. After your tourist visa application letter is done, our Quality Assurance team will review it meticulously, checking if it satisfies all the demands. Then, you can download the final version from your Customer Area duly or earlier. If you want to change something, just ask your writer to do it within 14 days. We'll fix everything in a little while!


Monitor and Administer Your Order
Email & SMS Notifications
Choose the most fitting way to keepaware of the order status.
Customer Area
Chat with your writer, upload the final SoP,and order something new easily.
Client Support
Don't hesitate to request help concerningyour order from our agents.
Essentials on How to Write Application Letter for Visa
If you intend to travel abroad, you should get a tourist visa beforehand. And a visa application letter is one of the requirements when you submit a tourist visa application. This letter is your official visa application to the embassy or visa application center of the country you want to visit. Developing a solid application letter is crucial to increase your chances of getting your tourist visa approved. Here are some essentials on how to write application letter for visa:
Research the requirements of the specific country you want to visit as a tourist: Make sure you know what documents a tourist visa application requires.
Keep your letter concise and clear: Avoid any irrelevant information.
Address the letter to the right person: Contact the embassy or consulate and ask for the appropriate name and title.
Be truthful and accurate: False information can lead to a refusal or even a travel ban.
Check your letter is free from errors or typos: A well-written letter can increase your chances of getting your tourist visa approved.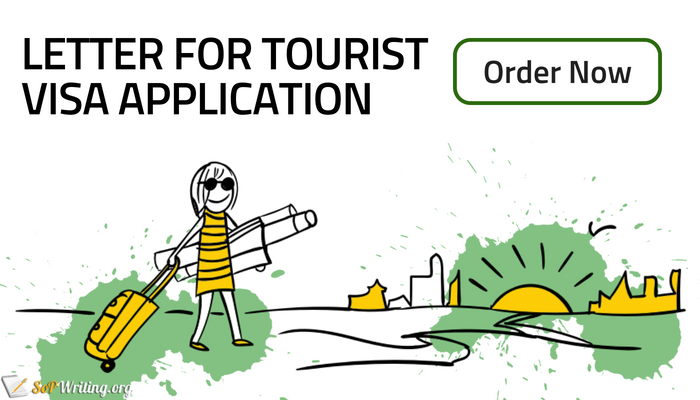 In summary, writing an application letter for tourist visa may seem difficult, but it is often not that complicated. Following these essentials can improve your chances of getting a travel visa, making it simple so you don't waste your time.
Do's and Don'ts of a Cover Letter for Visa Application
The general requirements and rules to guide you while writing a visa application letter are well-known and easily searchable on the Internet. It is important to search for them by specific country as they vary from country to country. However, some specific writing tips are optional but will improve your text's perception and overall impression of your tourist application. So, here are some do's and don'ts to keep in mind: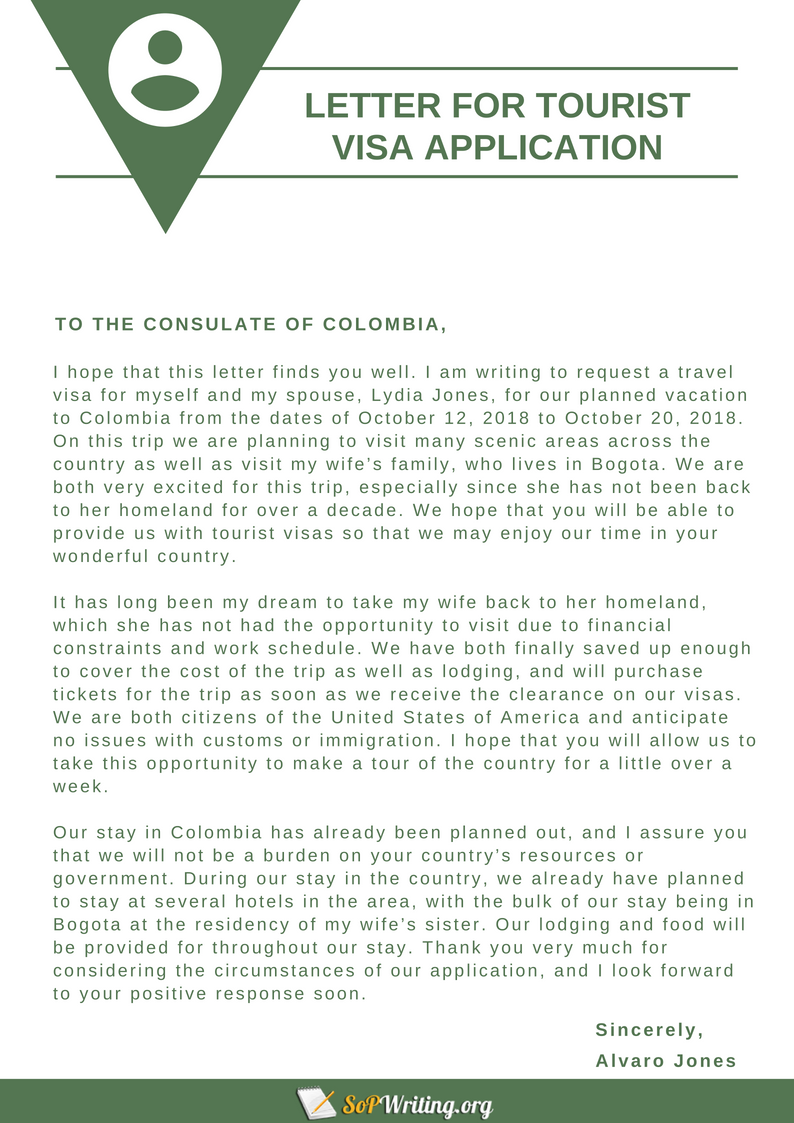 Do's:
Use a professional tone and language.
Clearly state the purpose of your trip and how it aligns with the officials' requirements. Add your invitation letter for visa application, if any.
Provide details about your travel plans, including the length of your stay, your itinerary, and your accommodation arrangements.
Include any supporting documents that may help your tourist application, such as hotel reservations, airline tickets, and travel insurance.
Express gratitude for the consideration of your request.
Don'ts:
Refrain from making false statements or exaggerating your vacation itinerary.
Don't add extra personal details or irrelevant information.
Avoid using jargon or colloquialisms.
Don`t forget to proofread your tourist application.
Don't send a basic cover letter that doesn't include details regarding your trip.
A well-written cover letter for visa application can show that you intend to follow the visa rules and can establish trustworthiness as a tourist by providing all the required information.
Expert-Written Visa Application Letter Sample
Although the letter often doesn't require a clear structure, it should be the same regardless of the country. Look at this sample letter for Canada tourist visa application written by our expert:
[Your Name] [Your Address] [City, State Zip Code] [Your Email Address] [Date]
[Address of the Embassy/Consulate] [City, Country]
Subject: Application for Tourist Visa
Dear Sir/Madam,
Writing this letter, I want to apply for a tourist visa to visit [Country name] from [Date of arrival] to [Date of departure]. I'd like to take this chance to introduce myself and provide some details of my trip.
My name is [Your name], and I am [Your country] citizen. I am [Your age] years old, and I work as a [Your occupation]. I plan to visit [Country name] for [Number of days] days for tourism purposes. During my stay, I will explore cultural and historical landmarks, enjoy the local cuisine, and meet the friendly people of [Country name].
Attached to this letter, please find the following documents to support my request:
A passport with a minimum of six months validity remaining.
A completed visa application form.
Two passport-size photographs.
Flight itinerary showing my arrival and departure dates.
Accommodation details, including the name and address of the hotel or guest house where I will stay.
Proof of sufficient funds to cover my expenses during my stay.
Travel insurance that covers the duration of my trip.
I assure you that I will abide by all the rules and regulations of [Country name] during my stay and will not exceed my tourist visa. I am also willing to comply with any other requirements that may be necessary for the tourist visa application process.
Thank you for your time and consideration this letter. I look forward to know from you soon regarding the status of my application.
Sincerely,
[Your Name]
This is what a good tourist visa application letter sample looks like, and you can use it to try creating your own one. Make sure you adhere to the same structure, and add the content according to the rules established by your destination country. Seeking professional assistance from SoP writing services can also be a wise decision. Proficient experts help you create a concise and accurate document that meets all the requirements and has a high chance of success.
The Key Specifics of Employee Letter for Visa Application
A strong tourist visa application letter from an employee can significantly affect the success of your application. It is an important document that verifies your employment, income, employment status, and travel goals. In addition, it must be signed by a company representative and indicate the duration of the work, travel plans, and the employer's contact information. Confirming that the employee letter for visa application meets the unique tourist visa criteria of the country you are applying to is crucial.
Let Us Master Your Letter for Visa Application
Our staff of skilled writers knows the specifics of the tourist visa application. So they can help you with all the cover documents you may need – from standard purpose letters to more sophisticated immigration waiver letter. We produce highly personalized documents highlighting your qualifications and travel reasons while reflecting on your unique circumstances and travel itinerary.


We can promise to create a unique letter for visa application adapted to your needs and preferences. It will be entirely yours. Plus, we offer reasonable prices and fast turnaround times so you can relax and focus on your trip preparation. Your tourist visa application will have the best chance of being approved with our professional help.
Don't let a poorly written letter stop you from realizing your travel dreams – let us prepare one that will be approved successfully!