Do You Need a Letter to Embassy for Tourist Visa?
When applying for a visa to many countries such as those in Europe you may be required to write a covering letter. The covering letter for tourist visa application must be capable of showing that you have valid reasons for visiting, that you can support yourself and that you have reason to return home. A poorly written letter could be grounds for refusal of your visa. Our SoP writing services can offer you all of the help that you would need to ensure that your visa application letter to embassy will be accepted.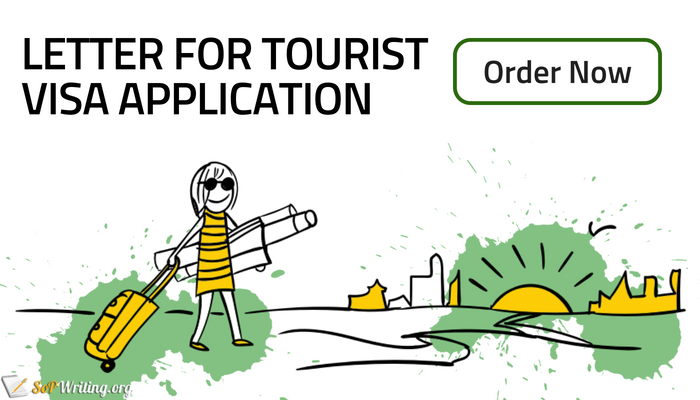 We fully understand what the embassy will be looking for within your letter and the correct tone and style of writing to use. We will be able to provide you all with the guidance and help that you will need to ensure that you will get your application for a Schengen visa approved.
No matter when you are looking to visit we have experienced visa letter writers that can support you. Our Canadian visa purpose of travel letter will support your application perfectly. We are confident that you will get precisely the support that you need or we will return your money to you.
Before applying for a visa, make sure that you have all the required documents on hand. Below is a list of documents that are usually needed for visa application but it's better to check the list for each specific country you're going to.
Filled and signed application form
Two passport-sized photographs
Valid national passport and its copy
Proof of compliant travel medical insurance
Proof of sufficient financial means
For a minor child – birth certificate, application form signed by both parents, a notarized parental authorization, signed by both parents or a guardian
Struggling to write a proper letter for tourist visa application on your own? Feel free to get help from our writers at any time!
Checklist: What Should Be in Your Letter for Tourist Visa Application
Countries such as the US, Canada, Australia, UK and other parts of Europe will require you to apply for a visa if you wish to visit them. Each has very specific requirements for the application which will also depend on the country that you are applying from. It is therefore very important that you take the time to carefully check the precise expectations of the consulate to which you are applying.
These requirements should be followed precisely and you should attach evidence where it is required to back up your letter. Your letter to consulate will typically cover all of the following:
The purpose of your travel: you should explain your reasons such as a holiday to view the various sights, or to visit friends and family.
Your planned itinerary: where will you be traveling to and when. Include details of where you will be staying.
Sponsor details: often you will be required to have a sponsor. Your letter should provide details of who they are and why they are sponsoring your visit to the country.
Proof that you can support yourself: you will need to show that you (or your sponsor) have the money to support you during your visit. You must attach evidence to the letter to provide proof of this ability. Often you will be given guidance as to what they will accept in the way of evidence such as 6 months of bank statements.
Proof of your intention to return home: many people attempt to enter a country and remain illegally for economic reasons. The embassy will, therefore, want to minimize this risk by asking for proof of your intention to return with your visa request. Often this will be in the form of property that you own in your own country or proof of full-time gainful employment.
What Is the Correct Covering Letter Format for Tourist Visa Application?
Most of the embassies will detail out precisely how your visa request letter should be written. They will give precise details of what they expect and you will also be able to find a sample cover letter for tourist visa application. A good letter for tourist visa sample will clearly show you the tone that you should write in which should be polite and formal from start to finish.
The format of your letter if not specified should be a formal business type letter. You want your letter to look professional while being clear and easy to read.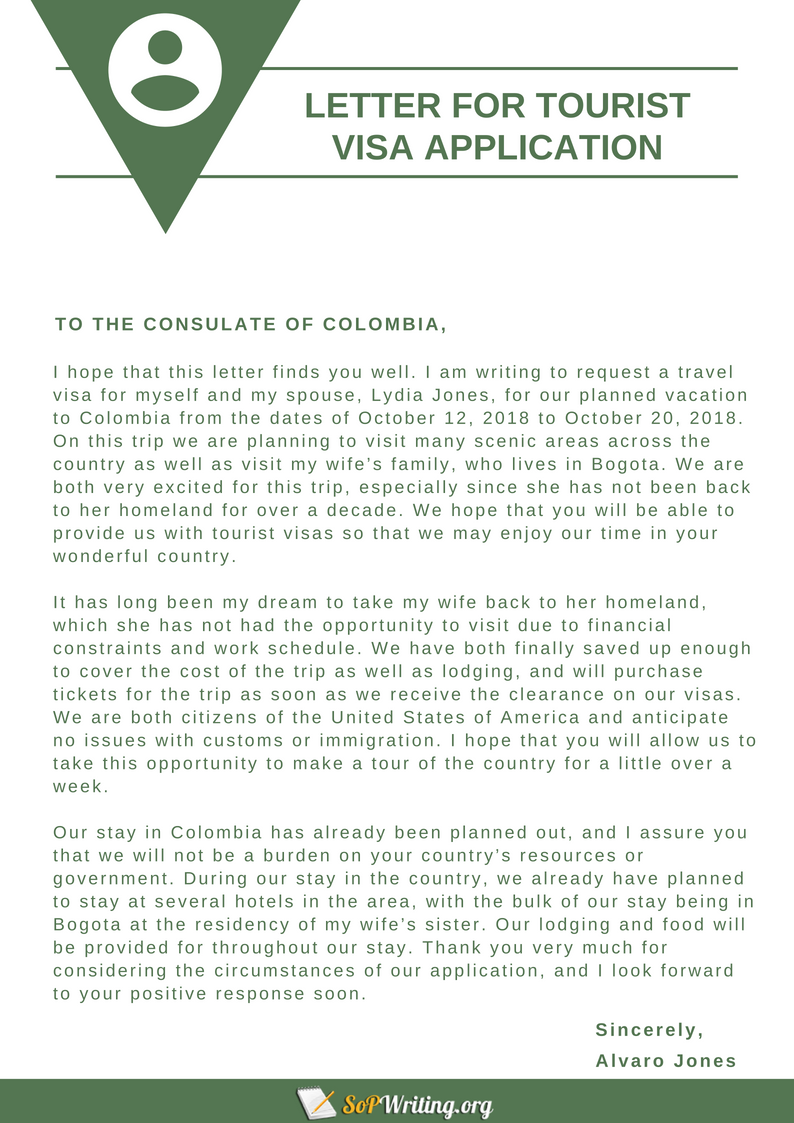 Tips for Writing Your Letter for Visa Application
The following advice will help you to ensure that you will always write a letter that will be effective for your application for a visa:
Read the guidance that the consulate provides for writing your letter and ensure that you follow it perfectly.
Look at our sample letter for tourist visa application and use it for guidance for your own writing.
Ensure that you cover all of the requirements that they ask for within your letter to the level that they expect.
Provide clear evidence where they ask for it, such as for proof of employment, or proof of financial ability.
Do not make statements that you cannot support with clear examples and proof. Remain honest within your application.
Proofread your letter to ensure that it is free from any issues before you submit it.
FAQ for Making Your Visa Application Letter
The following are some of the common questions that we get asked:
Is the letter really important for my application?
Yes, if your letter fails to satisfy the reviewer then your application will be rejected or more information may be requested delaying the issuing of your visa.
Will they check any of the information that I provide?
Yes, there is every possibility that they could thoroughly check any information. This could include calling your bank or employer or checking official records in your home country.
I have traveled to the country before, do I still need to apply for a visa?
Yes, unless you are resident then you will need to apply for a visa whenever you travel. However, if you have been issued a visa in the past and followed their requirements and left on time it will be a positive factor for gaining a new visa.
How Can We Help with Your Visa Letter?
We offer you a full range of services and advice through staff that is highly experienced in this area. Through our help, you will be able to access a sample letter for visa application to embassy and advice for writing through to getting the professional help that you may require to write your letter. All of our services are provided one on one to ensure that your letter will be written perfectly and will contain all of the information that will be required.

How Can You Order Our Professional Support?
From an immigration waiver letter to a sample letter for visa application to embassy, we can help you. Follow these steps to get to work with our highly effective letter writers:
Complete the order form: you can access the form on our website which you can reach from anywhere 24/7.
Make your payment: we offer some of the most competitive pricing for our services and your payment is made through safe and secure methods.
Discuss your visa letter with our expert: they work directly with you to ensure that they can get all of the required information to make your letter a success.
Request any changes: we offer you unlimited revisions until you are confident that your letter is precisely what you are looking for.
Take delivery of your completed application letter: it will have been proofread and checked for plagiarism prior to being delivered to you on time.
Make your letter for tourist visa application accurate and effective with the help and support of our highly reliable writers and editors.