When you make your application you will be asked to write a statement of purpose for MBA (SoP) or personal statement as part of that application. Unlike the other parts of your application that generally just refer to your qualifications and grades, this is your chance to tell the panel in your own words why it is that they should be accepting you onto their program. A statement of purpose for MBA marketing is your chance to tell to the marketing admission committee about who you are using your own words. A well-written SoP for marketing can help you to secure your place ahead of your competition. But first, you have to write that highly effective marketing SoP that can get you noticed.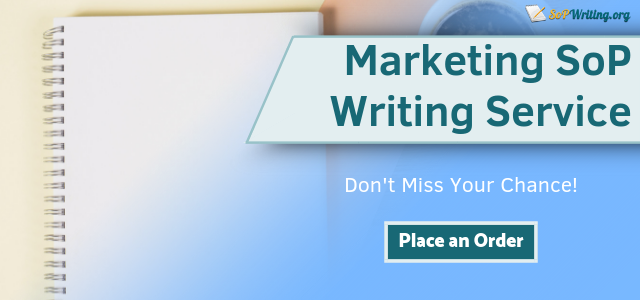 Statement of Purpose for MBA Marketing Writing
You will have to ensure that your SoP writing tells the panel what they expect to hear, this does not mean however that you should just tell them what they expect even if it is untrue. Statement of purpose is also known as a personal statement. It allows you in providing information about your skills and qualifications. It is your opportunity to stand out among the crowd. Many applicants forget that they are trying to show their suitability for a place and forget that they should cover all of the following points if they want the panel to see them as a good choice:
What makes you unique? Show that you have a long-standing interest in marketing
Why and when did you become interested in MBA marketing? Demonstrate what has influenced that interest and what you have done to follow your interest
What plans you have? Show that you have a career plan that will use what you learn on their program
What interest you have? Give valid and unique reasons as to why you want to follow their program
Why do you want to attend the MBA marketing school? Show that you are capable of completing their program.
Ensure that your statement of purpose shows your suitability for a chosen program with the help of the best SoP writing services! Have a top writer on your side!
Great Statement Of Purpose Marketing Management
SoP for marketing is one of the essential elements for MBA application. if you don't want that your application will be rejected, make sure you submit striking and one of a kind essay.
Start early: Ensure that you start writing your statement of purpose for MBA ahead of time.
Follow guidelines: Keep in mind that you need to check the guidelines of the program. If they need you to submit a 500-word essay, then do it and don't exceed.
Submit on time: Many applicants failed to submit their application on time. Your application would be rejected so be sure to meet the deadlines.
Present unique story: Instead of presenting a report, better to present a unique story. This is one of the best moves you can do because it can make you different from others but the story you need to share must be exceptional and not the same with other applicants.
Clarity: Writing with clarity is important. An essay that is not clear will surely fail and the reader will not continue to read your story.
Always be specific: You need to be specific in presenting experiences or qualifications.
Customized your essay with marketing details: The admission committee will happy to read your essay when it has marketing details.
If you have high grades and scores, and then it is good news but make sure also that you focus on writing your MBA statement of purpose format. Show what you have now!
What to Avoid When Writing Your SoP Marketing
Many applicants make mistakes with their writing that will quickly see the panel moving on to the next SoP so it is important that you understand what these writing mistakes are:
Don't try to be clever with your writing: using a thesaurus to select unusual words will not impress it will just stop the reader from understanding what you have written.
Do not use acronyms, slang and never profanities.
Don't state anything that is obvious, already available within another part of your application or use any clichés.
Never use filler or discuss anything irrelevant: stick to the point and be concise in your writing.
Never say that you are applying there because you don't want to go somewhere else, always approach everything from a positive angle.
Never copy, or tell lies: This needs to be an honest reflection of you.
Don't just stitch together a list of unrelated facts about you, your SoP needs to flow like a story with a clear and logical progression.
Don't let any errors creep into your writing. None of us write perfectly so ensure that you proofread carefully.

We Can Write You an Error Free Marketing SoP
Few people have the skills to write that perfect SoP for marketing which is why you may wish to gain an advantage by using our professional SoP writing experts. We use only highly qualified and very experienced writers to provide our clients with unique and highly engaging SoPs. Also, you can find the information about SoP for electrical engineering if you need.
Contact our experts if you are looking for a statement of purpose for MBA marketing that is going to boost your chances of selection!