Professional Writing Help With SoP for Mechanical Engineering

Your statement of purpose for mechanical engineering is one of the most important parts of your application. It is the only part of your application in which you are able to tell the reader in your own words just who you are and why they should accept you into their program. A well written SoP mechanical engineering will often be the deciding factor in your acceptance. However, being able to write that effective SoP is not easy and many students will need help if they are going to win the place that they want. In such a case, the best SoP services are what you need. Experts can provide you with all the needed help in writing your document.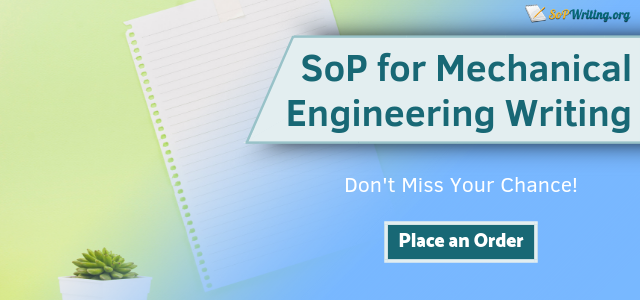 What Should Your SoP for Mechanical Engineering Cover?
Your writing SoP needs to convince the reader that you have a real interest in mechanical engineering and that you are going to pursue a career that actually requires your studies. You also need to convince them that you have a need to study with their program rather than any others.
To do this you will need to cover all of the following:
Explain why you have an interest in mechanical engineering
Show what you have already done to follow your interest in mechanical engineering
Show that you have a clear career plan involving your studies
Explain why you want to study through their program specifically
Demonstrate that you have the specific skills that they are looking for
If you are struggling with creating an SoP for your mechanical engineering application or need SoP engineering that is going to impress or you just don't have enough time, then write SoP team. Our professional SoP writing experts can help you to write that highly engaging SoP.
How Should Your SoP for Mechanical Engineering Be Written?
The following are some tips as to how to write your SoP in a way that is going to get you noticed by the reader:
Use an opening hook to get the interest of the reader right from that first line
Ensure that the statement flows like a story logically from start to finish
Be concise, only use as many words as you need, avoid any form of filler
Do not state the obvious or use clichés
Do not use slang, acronyms or overuse the thesaurus to use words that will not be understood
Avoid the use of humor, it is rarely appreciated even if executed well
Always tell the truth and talk about yourself
Never plagiarize within your SoP
Proofread very carefully to ensure that you do not send your SoP containing any errors
We aim to help students build an impressive application by assisting in writing their SoP as well as revise and edit their existing statement to make a good impression. We have the experience and the expertise to prove that our writing company is among the best today so why not check out what we can offer you?


We Can Write Your SoP for Mechanical Engineering
We know that it's not easy to come up with a good SoP especially if you don't have any experience writing one. What's more, the pressure to deliver a well-written statement is high because you will have to compete with other applicants for the spot in the graduate school. Fortunately, our writing team can help you out. Our writing company can handle all kinds of SoP from writing a creative statement of purpose to SoP for engineering.
Our writers are not only chosen for their experience and expertise but also for their background. They are all higher degree holders in the fields within which they write and have many years of experience in helping with applications and admissions. They will write you a completely unique and well-written SoP for your application that will be based on your and tailored to the program that you are applying to. This way, no matter what your SoP is for, we will be able to partner you up with the best writer in our team. It doesn't matter how fast you need your SoP to be written, we can deliver it on time and in the best manner possible. All that you have to do is place your order through our website and we'll take care of the rest.
Our SoP for mechanical engineering writing will always be delivered on time and is fully covered by our full satisfaction money back guarantee!