A statement of purpose for a scholarship is one of the many different types of statements there exists that make the entrance and acceptance of a student much more difficult than it should be. However, many people have found out the way to make this statement of purpose a succeeding one and eventually make their way to university with a scholarship. So you can`t just use the
statement of purpose for PhD to get a scholarship.
But if you're thinking that this kind of statement is the same as other statements, you are totally wrong. A SoP for a scholarship is a kind of statement that focuses on the future goals of the student who wants to get the scholarship or fellowship in order to be able to study further, making it a really important document that needs a lot of effort.
So, if you are looking to write a statement of purpose for applying for scholarship, we recommend you to take a look further into this article and find out more about it, from the difference of a SoP for a scholarship with other types of a statement of purpose, the different types of statements there are and a sample personal statement for scholarship 250 words.
Different Types of Scholarships
Most people think that an academic scholarship doesn't have a difference from an athletic one, however, the truth is very different as there is a scholarship for almost any kind of student and opportunity.
Take a look at this list to know more:
Academic Scholarships
These scholarships are known for being the most prestigious ones. Not because they are given to people of prestigious backgrounds, but because they are given to those students that have a GPA of 4.0 with no exception. They are mostly given to those students that send a wonderful application to a university and comply with all other requirements. Also, these scholarships are given as national awards and such.
Average Performance Scholarships
These scholarships are given to almost all kind of students; however, they are preferably given to those students with average student performances and capabilities. Mostly given to those students who were not the best of their schools but achieved many important accomplishments in different areas or extra-curricular activities these scholarships focus on the personal skills of the student who applies.
Athletic Scholarships
As its name says, athletic scholarships are mostly given to those students who excel in physical activities and sports. If these students have enough physical skills to eventually excel in the future, they are for sure in the list of the athletic scholarships opportunities. These scholarships are the best opportunities for those students who are good for sports and physical activities but not as much in academic performance.
Scholarship for Minorities
This type of scholarship is given to those students who are part of a minority, but especially those who are seen as really tiny minorities in a certain area. This scholarship can differ depending on the ethnic, cultural or religious group the student forms part of, but can be a really wonderful opportunity to win money and eventually be able to study.
Women Scholarships
These scholarships are specially designed to serve as a help to those women who are facing economic, social or working problems and won't be able to study properly. With one of these scholarships, any woman can pursue an academic life without having to worry about finances too much. These scholarships are available in every field there is.
Creative Scholarships
If you are a person who is a genuine artist of any kind, one of these scholarships can be your opportunity to be able to study in one big university. From scholarships to painters, dancers, musicians, or just any kind of artistic field there is a place for in a university, you can get one scholarship and achieve a high education without any problem.
Unusual Scholarships
These scholarships are mostly given to those people who find a way to ask for scholarships and actually ends up being fair. This kind of scholarships can be given to people who are left-handed or just even for those who are great at making prom parties. However, these scholarships are very rare and unusual, and they are mostly given in a more secretly way.
Community Service Scholarships
This kind of scholarship is specially designed for those students who are more than happy to give to their communities. If you are a student who has a reputation of working for your community and have eventually participated in big events in proof your community well-being, you can opt for one of these scholarships and it's very likely you'll get accepted.
How a Statement of Purpose for Scholarship Differs from Other Statements
Normal personal statements for college admissions are very different from one SoP for a scholarship. Most statements will look as essay writing, but a statement of purpose for a scholarship will have a different paper format and a different purpose due to its content and what should be written in it.
Also, college admission committees are mostly drawn by students who have promising careers ahead and interests that have potential in their desired fields, whereas fellowships and scholarships selection committees look for those who actually comply with the specific requirements of the scholarship, especially those with professional profiles. As the example take a look at CU boulder essay examples.
However, most scholarships are given to those students who actually need it, and those who have performed well in their previous studies and professional activities. So, a statement of purpose for a scholarship will mainly be about interests and past experiences that have changed the way the student thinks about his future and how it can be of potential.
Most scholarships are given due to a great statement of purpose that delivers enough compelling data and appealable information about the student and all his previous achievements in the past and how he hopes to achieve much more in the future.
Want to Write a SoP for Scholarship?
Take a look at this Sample personal statement for scholarship 250 words so you can know how to write one properly:
First, start with the reason for your college selection
Secondly, state the reasons for deserving the scholarship
Third, state past experiences and how they've changed you for better
At last, state what contributions you can offer to the college or university of your choosing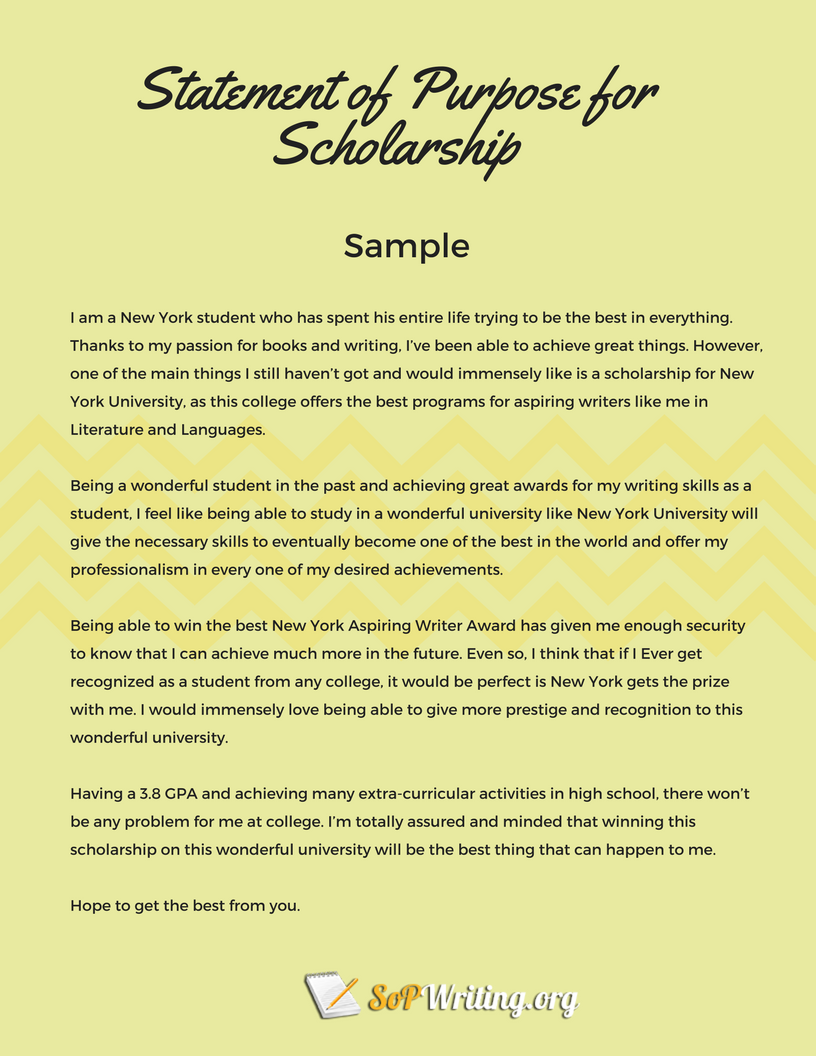 Useful Tricks for Writing a SoP for Scholarship
If this sample of statement of purpose for applying scholarship of 250 words is not enough for you to write a perfect SoP for scholarship.
You can take a look at the following tricks that will help you achieve the best results with your statement:
Choose your stories wisely. If you are going to talk about a story of your past, think first about what you're going to say and what your point will be. You won't like having any sense in your story or just telling something that has no meaning whatsoever. Always try to make a point about your skills and achievements, especially if you've learned something.
Take your time. Even though many people will tell you that a statement of purpose can be written in just one day, the best thing you can do to avoid mistakes and eventually achieve a better paper format in your statement will be taking enough time to write and think about great stories to tell within it. Also, it is recommended to write several drafts and make notes on what you should improve.
Avoid grammar and spelling mistakes. This is something that is not exactly a trick, but most people tend to forget about it. As a rule for writing almost everything for academic purposes, always avoid those mistakes that can cost you a lot. Proofread, edit and repeat. Also, making someone else read your paper to spot mistakes and eventually give their opinion is also a wonderful idea to develop a better essay writing technique in your statement.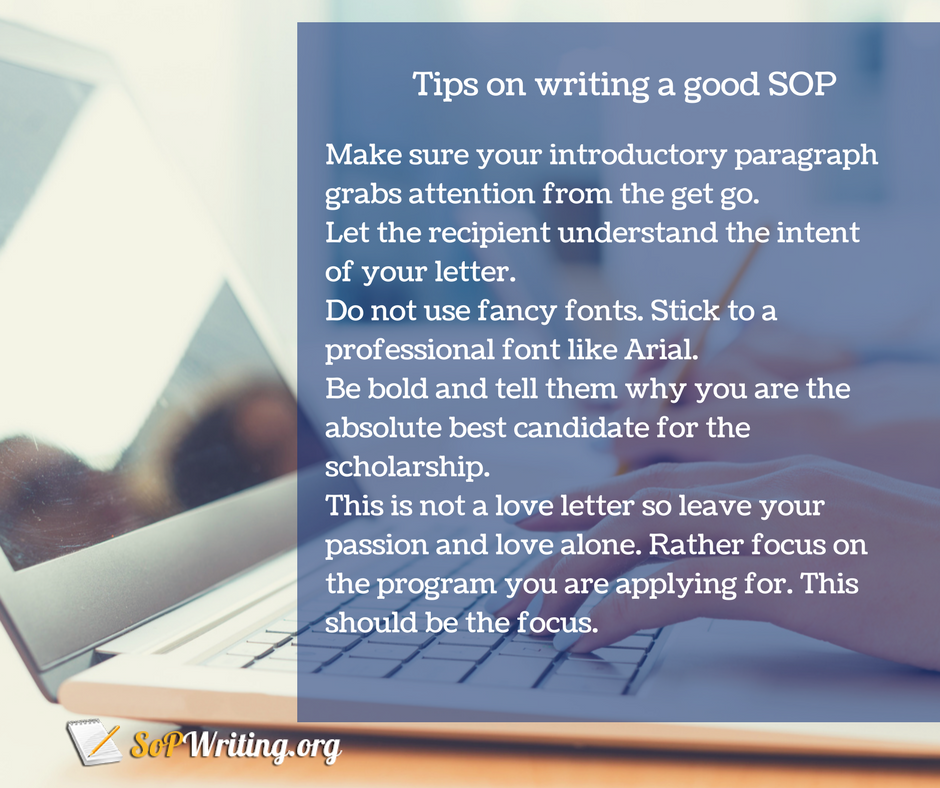 Advice from Experts in Writing a SoP
If you want even more help with writing a perfect SoP, there's no better advice than the following given by the University of Washington:
Grab the spotlight and be yourself
Yes, one of the main things you can do while writing a successful SoP is to be yourself. Even though you will need to write formally as a professional if you can, don't be too formal or too lazy. Give your personality have an opportunity to show with your writing.
Share passion and knowledge
If you are going to apply for a specific scholarship on a specific program, show your passion and knowledge for the field of study you are applying for. If you make that selection committee know that you are actually prepared and enthusiastic enough for the program you are applying, they will for sure see you as a potential winner of the scholarship.
Follow requirements and rules
Many people tend to forget reading the rules and requirements for writing a SoP. Different universities will demand different rules and types of writing in their statements, that's why you should be careful when writing one of these. Not only will you be forced to avoid mistakes with grammar, punctuation, and spelling, but eventually have the perfect paper format and content the university asks for.
Ask for feedback
Even though you may think that asking other people for their opinion may not be valid, it is actually a great way to find out your own mistakes in the statement. Also, professors and professional colleagues or family can give you advice on how to improve.
If this advice from experts doesn't give you enough security to write a proper SoP, you can also take a look at these tips for writing a statement of purpose.
The Perfect Statement of Purpose for Scholarship
As you already know, a statement of purpose for a scholarship is fairly different than any other SoP or just any other statement for academic purpose. And if you've taken a good look at this article's content, you will know that writing one of these is not an easy task, so if you want to write a perfect statement of purpose, you will have to follow our recommendations and tips to the letter.
But if even after following our tips and recommendations you can't find the way to write a proper SoP for scholarship – don't hesitate in contacting us and we will more than happy to help you out with your statement of purpose of applying for a scholarship.
Get the best advice from our experts and eventually write a statement of purpose for scholarship!