How to Write the SoP for Business Management


Your business statement of purpose plays an important part in your application because it is here where you get to impress upon your reader the reasons why you wish to pursue this course. It is vital that you come up with a well written well-written because this will help in setting you apart from other applicants. The only problem is that not everyone has the writing ability to deliver a quality statement. If this is the same problem that you are experiencing at the moment you should consider hiring a professional writing company to help you out.
The Importance of Having a Good SoP for Business Management Applications

If you are looking to land a place to study business management then you had better hope that your Statement of Purpose (SoP) is up to the task. This is the only part of your application that is not just about your grades and qualifications and it can be the most important part of your application. The committee will want to know just who you are and how you are going to fit into their program and they can only get this information from your business SoP, so it needs to be written perfectly if you are going to impress them. But being able to write that perfect SoP for business management is not easy. Create a SoP business essay just in time when you need.
What Your SoP Business Needs to Cover
You will need to ensure that your SoP will tell the reader exactly what it is that they want to hear if you are going to get selected. Your SoP for business management or even SoP for project management should cover all of the following:
What is it that got you interested in business management?
How have you pursued your interest in business management?
Where do you see yourself in 5 or 10 years time?
Demonstrate that you have the skills and mind set to finish the course.
Give good reasons for wanting to follow their specific program.
How to Write the Perfect SoP for Business Management
Writing a good SoP for business is not just about writing the right things, how you write is going to have a huge impact on how your SoP is received. The committee will read many different statements and few will actually be of the quality that will actually make them want to read.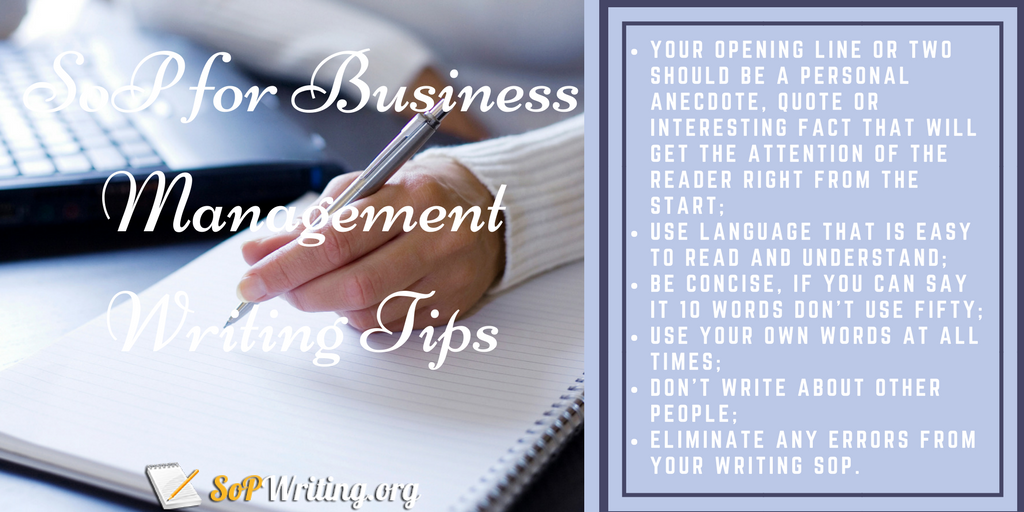 To get noticed you have to write in the following manner:
Use a hook, your opening line or two should be a personal anecdote, quote or interesting fact that will get the attention of the reader right from the start.
Maintain a logical flow throughout your SoP, it should not just be a bunch of facts stitched together, it needs to flow like a story.
Use language that is easy to read and understand, so avoid acronyms, slang or overly complicated words.
Be concise, if you can say it 10 words don't use fifty. Your word count is limited so don't waste it.
Use your own words at all times; never plagiarize or use clichés.
This is a personal statement about you, don't write about other people.
Eliminate any errors from your writing SoP with careful proofreading.
Hire Professional Writing Service for Your Business Statement of Purpose
Just like writing a medical statement of purpose, you need to think about hiring an expert writing service to assist you in your statement of purpose for your business application. One reason behind this is the fact that having a professional writer work on your statement can increase your chances of getting noticed among the others. If you are planning on hiring someone to write your SOP choose our company because this is where our specialty lies. Once you place an order with us, we'll make sure that you get the best outcome there is.
Let our expert writing company write your business statement of purpose or law statement of purpose for you. With our years of experience and expertise, we are confident that your chances of getting accepted into the business school will increase dramatically.
Customized Statement of Purpose for Business School
Although there are dozens of writing services to choose from our writing company stands out because we guarantee quality writing at all times. We know how valuable your statement of purpose is which is why we make sure that our writers are all experts when it comes to creating statements of purpose. When we receive your order we'll immediately assign a writer with background in business to work on it immediately. You'll get emails from the writer and you can even discuss other details about your statement throughout the writing process.
We Can Write Your SoP for Business Management
With the very best qualified and experienced SoP writers, you can confident that we will provide you with an engaging SoP that is going to get you noticed. You can just write a SoP and our statement of purpose writers will work with you one on one to craft a unique and well-written SoP that will be fully focused on your application. Our service always delivers on time and we cover all writing with our full satisfaction money back guarantee.
Don't hesitate to hire our service and we'll help make your business statement of purpose stand out!